Monday, June 15, 2020
CHICKS AT PLAY
by Blog Master

Story and Images by Charmaine Toews. I live on a country property with a couple of acres. For the last two years we have had laying hens so we can enjoy the pleasure of gathering our own eggs from our free-range chickens. They sleep in a coop, but during the summer days they wander a huge area of our yard that also has a large natural pond. They are happy chickens, we like to think. Well, when we got a new batch of 20 chicks to increase our number of layers, it only seemed right to photograph them.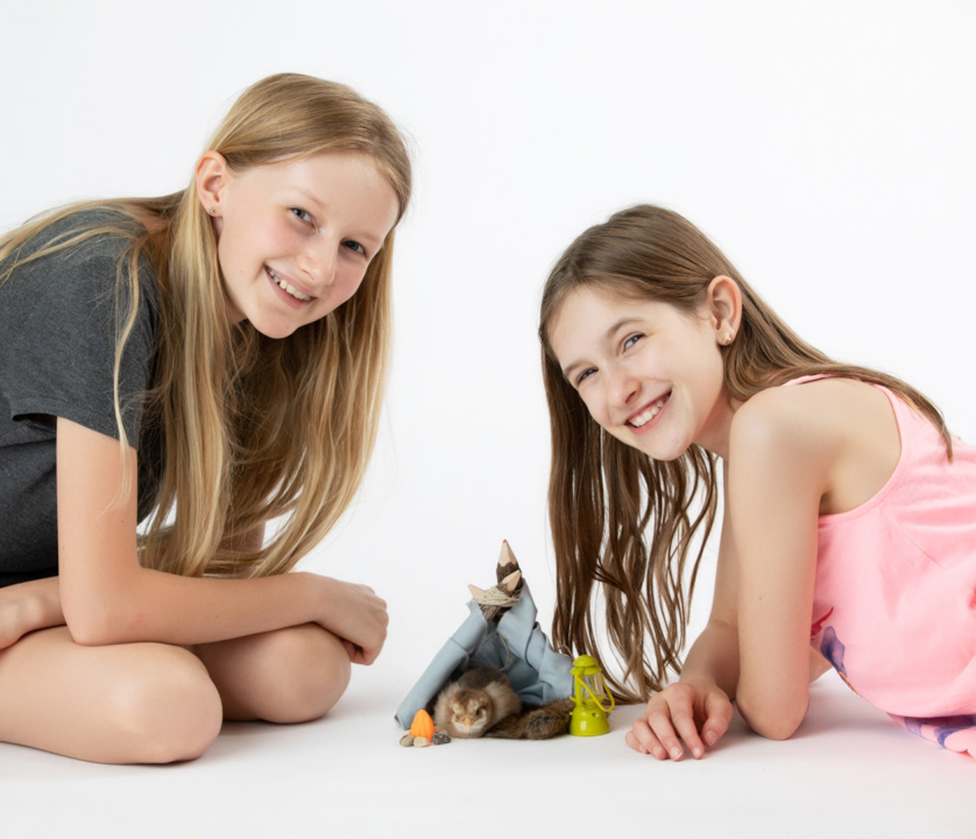 So, for my pure entertainment and some quality time with my daughters, we came up with a couple of ideas and got to work. After a sleepless night of creative fireworks happening in my brain, the next day we photographed about a dozen more chick photos. My daughters should get a lot of the credit. They gently handled the chicks, exchanging them for different ones every so often, and cleaned up the occasional droppings. We rummaged in their doll and toy collections and found so many fun little props that were seemingly sized perfectly for the chicks. So much laughter ensued and it felt about as far from work as possible. Over the next few days I ended up with 24 original chick photos. I haven't had that much fun in my studio in a very long time.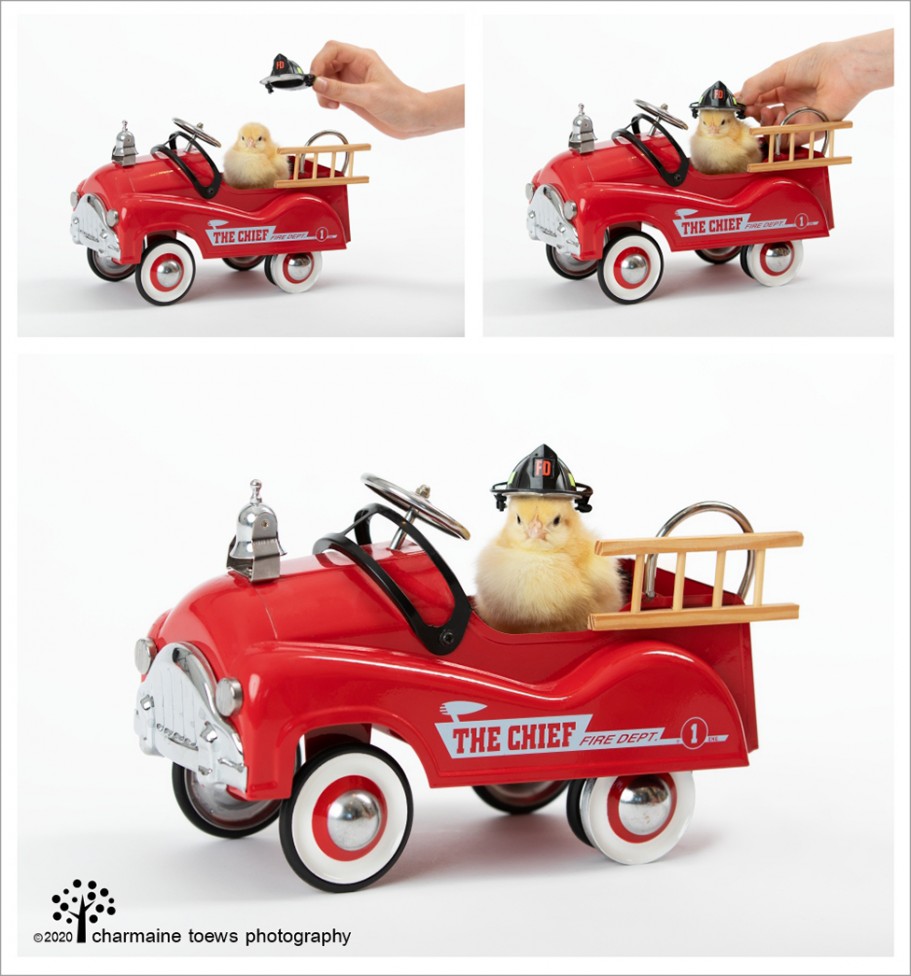 It turns out chicks are remarkably easy to photograph. As newborns they pretty much stay put where you place them. Other than occasionally falling asleep, they will look where you point their little beaks and are so cooperative. The thing that anyone must remember when photographing a chick, is that they are still newborns. Their necks are very weak and they can not hold any weight at all on their heads. So, any images where a little hat appears on the chick's head was a composite or photoshop edit. My daughter would hold the hat gently in place, careful to not put any weight on the chick's head, and then I had to either do some retouching or shoot again with her hand in a different place. Within a few days those adorable chicks start growing feathers, so the window of opportunity is very brief.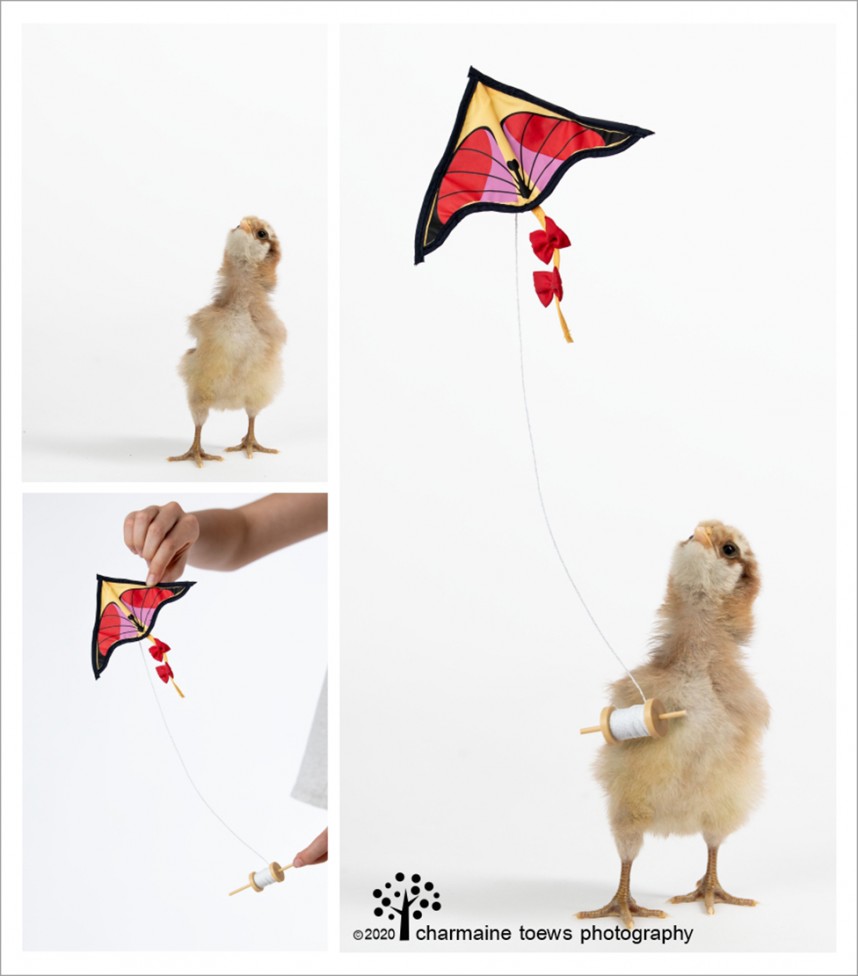 I used a simple lighting setup – a strip softbox pointed at the white backdrop and large octobox at a 45-degree angle to the subjects. I used the same lighting setup each time and just swapped out the props and the chicks – easy and quick.
I started sharing the images on Facebook and Instagram to bring joy to my friends and followers. I got a great response. Even our local radio station got excited about the images and interviewed me for a radio bit and blog post. Turns out cute chicks at play brings some much-needed joy when most of the news these days is far from that. After 8 images I put a pause on sharing them on social media while I think about how I could use these further.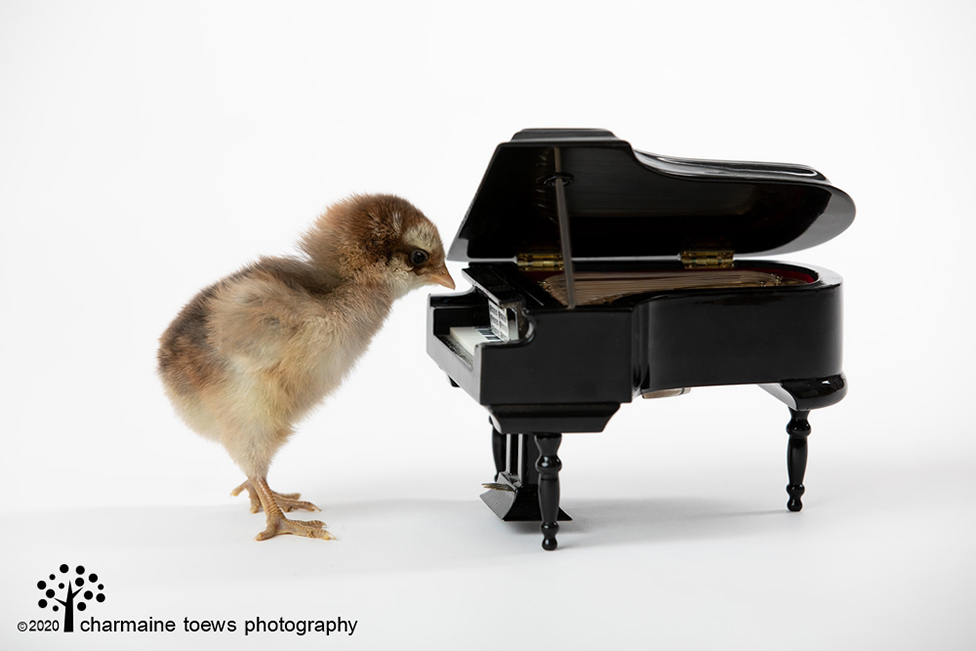 My fun "pet" project now has me thinking about selling cards, calendars, and maybe more. With little experience in this area, I have a lot of research and planning to do, but my goal is to produce a calendar for sale in the fall with some of the proceeds going to a local charity. I am hopeful that some local businesses like the hatchery will partner with me in selling them so we can raise a worthwhile amount. I feel like it would be the best outcome for a project that was born out of a desire for fun and delight.
2020 has had more than its fair share of heartaches, challenges, and disappointments. I hope that you are also able to find a personal project that brings some joy to your heart and gets your creative juices flowing again. If you haven't already, check out the Create and Unite Instagram account created by PPOC. It started up in April when most of us were stuck at home. Each week has a new theme – a great way to challenge yourself and share the work you create just for the sake of creating. It is truly inspirational to see the amazing photography that has been happening even while we were temporarily unemployed.
Story by:
Charmaine Toews MPA,  F.Ph - is a Master Photographer and a member of the Manitoba Chapter of the PPOC. She currntly has 11 Accreditations to her credit and conducts her photography business in the Mitchell / Steinbach area of Manitoba. You can find her work at: Charmaine Toews Photography.  She specializes in "people photography" - mainly Newborns, Maternity, Families, Business Portraits, and Weddings.