PPOC-AT / Welcome to PPOC Atlantic
Welcome to PPOC Atlantic, we hope you will join us! As a member, you and your business will benefit from a multitude of opportunities exclusive to PPOC members. Be sure to mark your calendar for our national, regional, and online educational events. Here, you will learn, connect, and form new friendships with fellow professional photographers willing to share and help you with your journey.
The more you are involved in all PPOC has to offer, the more you will improve and grow. Take advantage of our members-only Facebook groups to network and request image feedback. Dig deep into our webinar archives, and check out back issues of Gallerie Magazine. Volunteer to help out at our local events, join a committee, or take a seat on your regional board of directors - truly the fast track to connecting with other members in your area!
Make sure to follow us on Facebook and Instagram to learn about our upcoming events and keep up with local members. The main pages of the PPOC website are where you will find information regarding member benefits, accreditation, national image salon competition and photographic designations.
We look forward to welcoming you to our next event and introducing you to all the friendly and supportive photographers in PPOC Atlantic.
PPOC-AT / Bienvenue aux PPOC Atlantique 
Nous sommes heureux que vous ayez décidé de nous rejoindre ! En tant que membre, vous et votre entreprise bénéficierez d'une multitude d'opportunités exclusives aux membres des PPOC ! Assurez-vous de faire place dans votre calendrier pour assister aux divers événements éducatifs où non seulement vous apprendrez, mais aussi rencontrerez et développerez des amitiés avec d'autres photographes professionnels désireux de partager et de vous aider dans votre aventure. Plus vous participerez aux projets des PPOC, plus vous vous améliorerez et grandirez ! Si vous souhaitez profiter du programme de mentorat des PPOC pour être aidé à tirer le meilleur parti de votre adhésion, veuillez faire une demande de mentor ici.
Asseyez-vous, détendez-vous et prenez le temps de parcourir nos pages régionales pour en apprendre plus à propos des événements à venir au notre région et de nos membres locaux. Les pages principales du site Web des PPOC contiennent des informations sur les avantages des membres, l'accréditation, le salon national de l'image et les désignations de photographes.
Nous sommes impatients de vous voir lors d'événements et de vous présenter aux photographes de votre région.
The 2023 PPOC Member Appreciation BBQ in Riverview, NB. Clockwise from Left - Helen Jones, Tracy Munson MPA, Jason Bowie CPA, Cindy Duclos MPA, Jessica Gautreau, Natalie DesRoches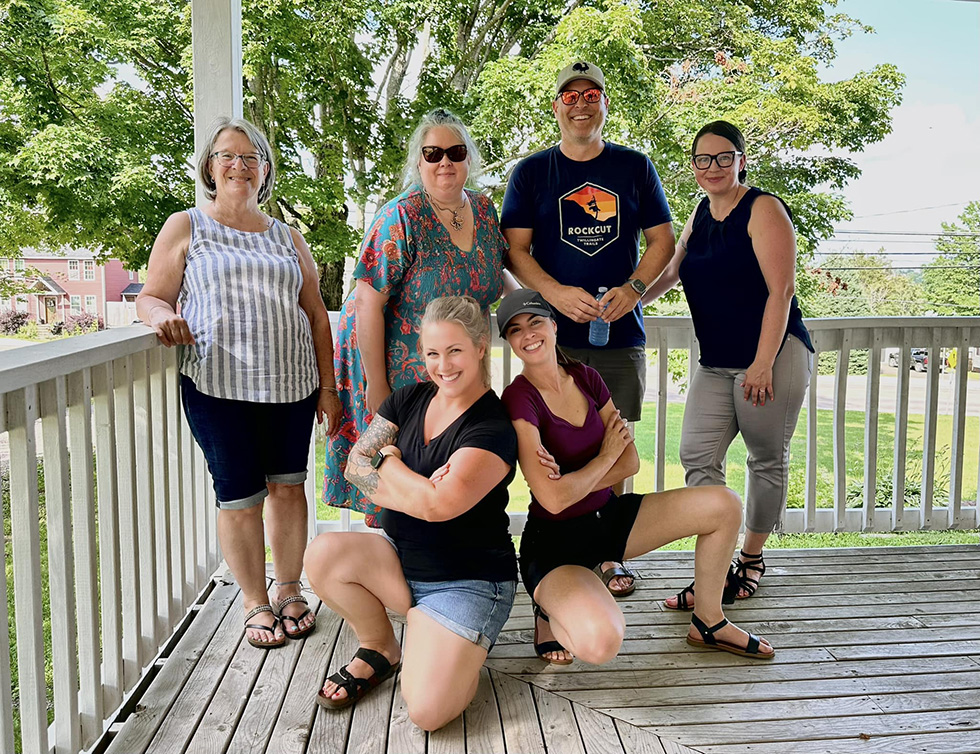 The PPOC Atlantic 2022 Inspired Vision Convention in Dartmouth Crossing.