Sunday, July 18, 2021
PPOC PHOTOGRAPHERS - CALL TO ACTION
by Blog Master
Submitted by Mona D'Amours I am writing to all PPOC photographers with the intent to encourage each of you to share your stories on our News feed. I look forward to meeting each of you face to face one day, and when I do, I will most likely approach you with three questions. What is your name? What do you do? Where do you live? It is strange that most of us can answer these questions easily under normal circumstances. However, we have been living in abnormal times, but I would still like to know the answers to these questions. Therefore, I am presenting a challenge for each of you. I would like to know more about YOU. First, introduce yourself. Then . . .
What do you do?
How did the pandemic change what you do in photography? What will you do differently post-pandemic?
What are your favorite images during these tough times? Submit the images. Share the back story.
What was the most challenging shoot or project you planned? How did you overcome these challenges?
In short, we would like to know your journey during the pandemic. I'm sure you have a story to share.
Where do you live?
Have you moved to a different location due to a different focus in photography and your life?
Have you been impacted by fires in BC, tornado in Barrie, floods, or other natural disasters?
Have you stayed where you live, but have changed how you live where you live. Make sense?
Start writing, recording, or whatever works for you, and send it to blog@ppoc.ca. Until I hear from you, I will share my challenges during the past 17 months.
What do I do? I was a performing arts photographer for over 15 years, but not in the past 17 months. I travelled every continent in the world, and still had more to discover, but not in the past 17 months. What did I do?
As soon as my husband and I could travel locally in the summer of 2020, we did. Though we have been married and lived in BC for 42 years, we had never discovered our own province. Our adventure was a three week circle tour in BC with a four day visit in Whitehorse, Yukon.  Before we left for our adventure, two accredited PPOC photographers, Jamie Poh and Steve Pelton challenged me to shoot in RAW. I had never shot in RAW before, and quite frankly was intimidated by the thought. But I did it, sort of.  I now shoot in RAW and JPG. They also encouraged me to use gradients and cropping I never considered. It was the beginning of life on the wild side like a child with scissors, a ruler, and her first colouring book.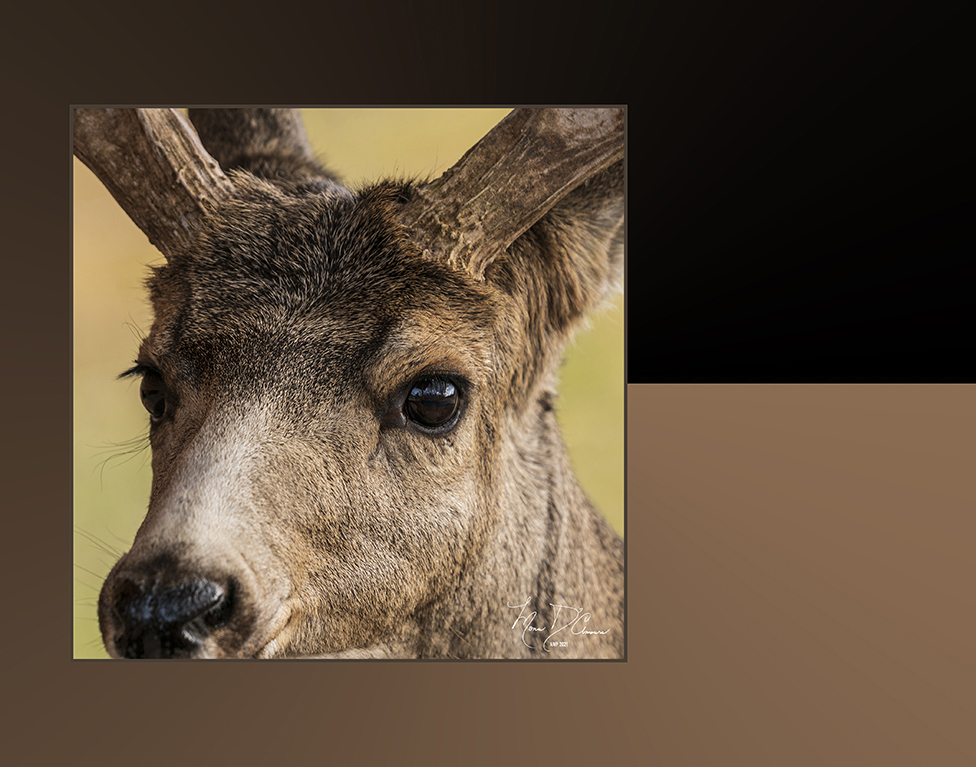 That only covers three weeks of seventeen months. While stuck at home for the most part, I would go for walks with my camera, and started taking pictures of flowers. I literally had never taken a picture of a flower before the pandemic. I'm anxious to receive my botanical accreditation. Almost there! What will I do in the future with photography? Not sure, but I am ready for more adventures wherever they take me.
Where do I live? This, too, has changed. My husband and I were both restless during the pandemic. We had always wanted a log home, and had searched for thirty years without success. Then we discovered a log home in the mountains of Ashcroft, BC in March; made an offer in April; moved in July 1, 2020. A year later, on July 14, 2021, we were issued an evacuation order due to the Tremont Creek fire which started on the mountain behind our home. This fire is now 50 square km, and out of control. With 306 fires in BC as I write this, we do not know what the outcome will be for our log home. Where will we live? Not sure. The future will tell.
The first Helicopter on the scene July 12, 2021 to fight the Tremont Creek fire.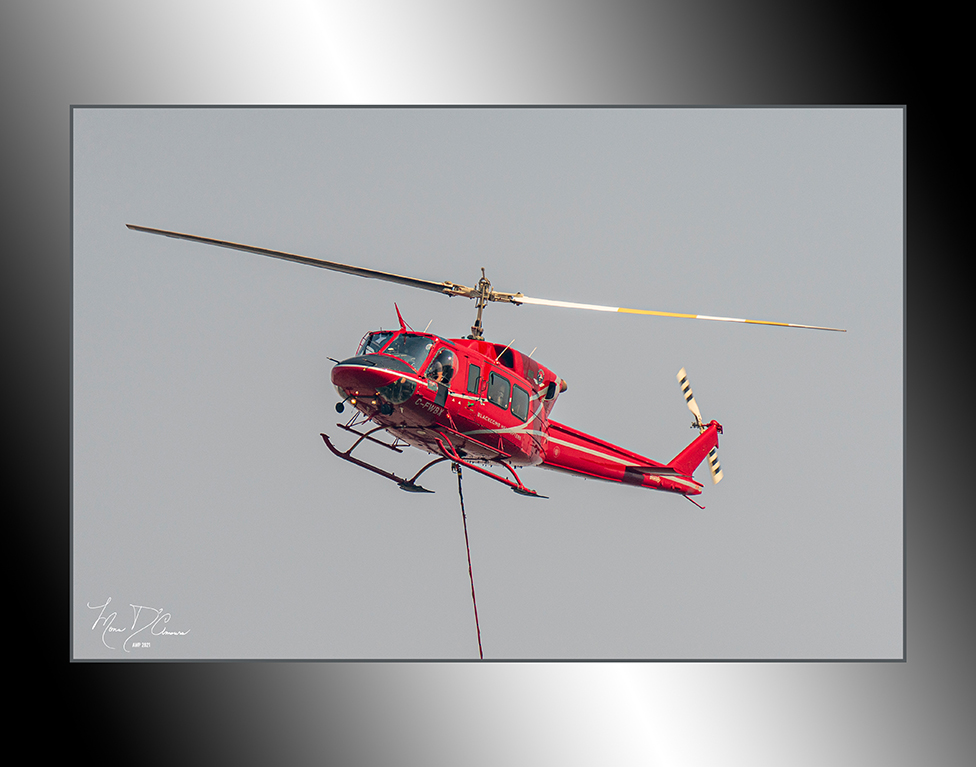 The view of my home July 13, 2021. The RCMP drove to my home to issue the evacuation alert.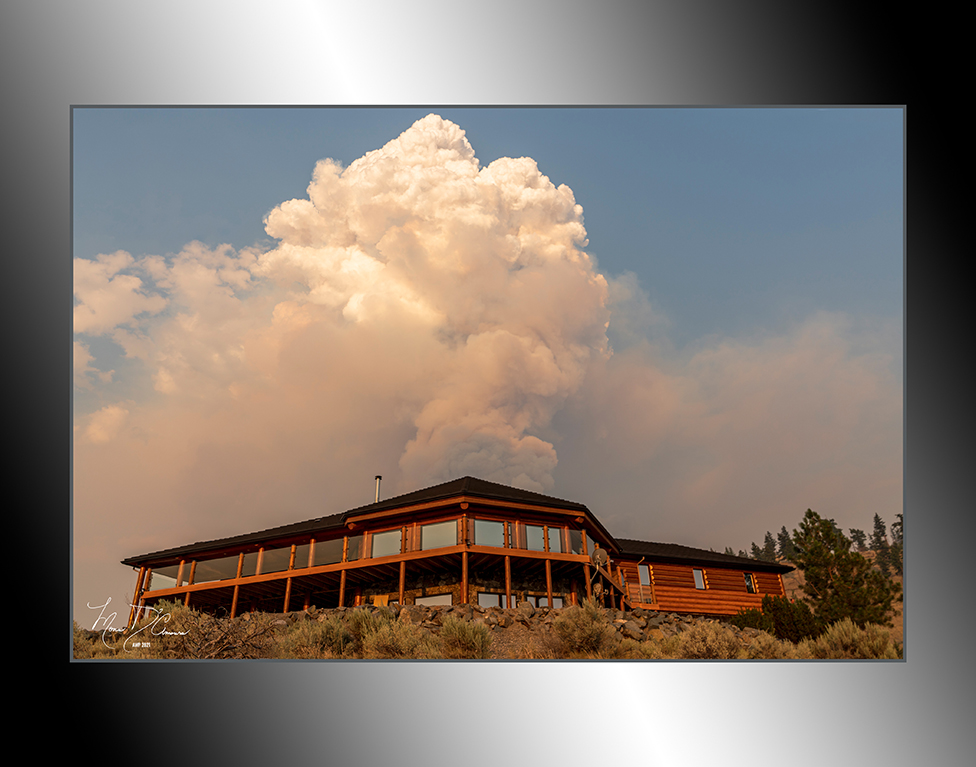 The Sunset on Fire the evening of July 13, 2021. The evacuation order to leave was issued the next day on July 14, 2022.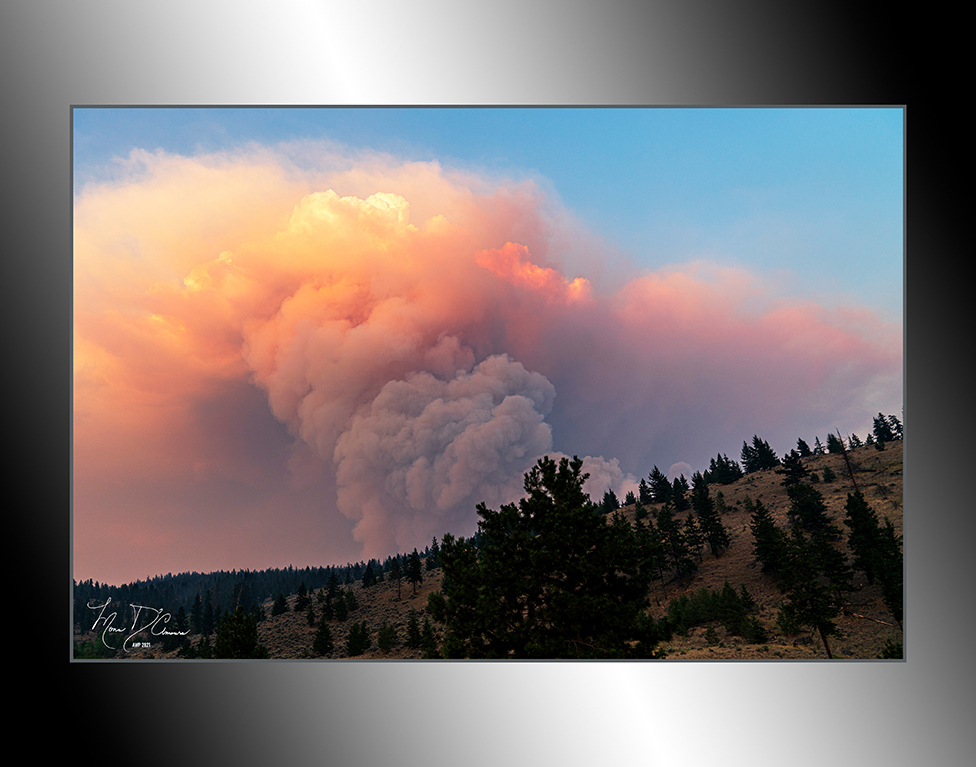 Now share your pictures, and tell me your story. The challenges. The changes. The discoveries. Remember that you receive 1 merit per 100 words to a maximum of 10 merits per blog post, and 60 merits per year. Eligible blogs must be a minimum of 300 words.
Hint of the future: All four of these images plus twenty-seven more will be on display in the local art gallery in Ashcroft, BC. This is my first gallery showing. The plan was for the month of August, but this may change since all residents in Ashcroft are on evacuation alert. More unknowns. More challenges.
When I was much younger, as a former Psychology Professor, I developed a course called "Psychology of Success". I will share it briefly with you at this opportune time. Success has a different meaning for each of us, but the path of success is the same for all of us. It is easy to remember with the acronym WALL. I compare success and life as a passage in time with a beginning, and an end analogous to the walls that surround us as we walk along this passage. Walls divide us. Walls brings us together. What do you do when you're up against a wall?
W – Wish with your head; Will with your heart; Work with your body (First steps to success)
A – Adapt, Accept, Appreciate (Survival Skills to face our challenges)
L – Listen, Laugh, Love (Value and Meaning; The Human Touch)
L – Loss, Learn, Life (Everyone can win, but loss is the best teacher in life)
The key to success is to learn from all our experiences, the good, the bad, and the ugly. With our cumulative knowledge, we take one more step towards success. As I once wrote, "Youth is a measure of promise. Age is a life of experience."
Submission by Mona D'Amours, National Blog Chair who looks forward to your submissions for our News stories. She was accredited in the performing artists category in February 2020. She is also a third generation photographer. Her grandfather was a photojournalist, and her uncle was a portrait photographer. Discover more about WHO is this new PPOC member on her website https://www.monadamoursawp.ca