Monday, February 27, 2023
Featured Member: Trevor Pottleberg CPA
by Tracy Munson

Trevor Pottelberg is a professional photographer and photo educator based out of Southwestern, Ontario, Canada. Specializing in ethical wildlife, landscape, astro & wave photography, his photographic portfolio is packed full of beautiful Canadian scenes. His love for nature conservation and the great outdoors is apparent in each of his photographs.
Trevor has been actively working on a personal assignment to bring much-needed awareness to wild canids. The project is called The Wild Canids of Ontario. You can learn more here.
Trevor has been an active member of the PPOC (Professional Photographers of Canada) since January of 2014. He has won many awards for his artwork at both Provincial and National levels. He is Nationally Accredited in Landscape, Nature, Ornithology, Night & Fine Art Photography. In addition, Trevor has earned the CPA designation (Craftsman of Photographic Arts) within the organization.
His most recent and arguably highest achievement thus far came in the fall of 2021. Trevor was awarded top honour by winning the 2021 Photographic Artist of the Year Award at the 2021 PPOC Ontario Provincial Image Salon.

In Sync received a score of Excellence at the PPOC 2020 National Image Competition.
Trevor says "This image took some luck and planning to pull off. I had envisioned this image many months prior to capturing it. I knew that I wanted an overcast sky behind the birds so that there was nothing distracting around them. When the time of year rolled around for their annual migration, I headed out to photograph them on an overcast day. After many attempts, I was finally blessed with a very unique capture with both birds seemingly appearing as one.
A long 400mm lens with a 1.4x teleconverter and a steady panning technique was key to this capture.
There is something special about watching a pair of mating birds flying in sync with one another. To be able to capture this and share it with others is so rewarding."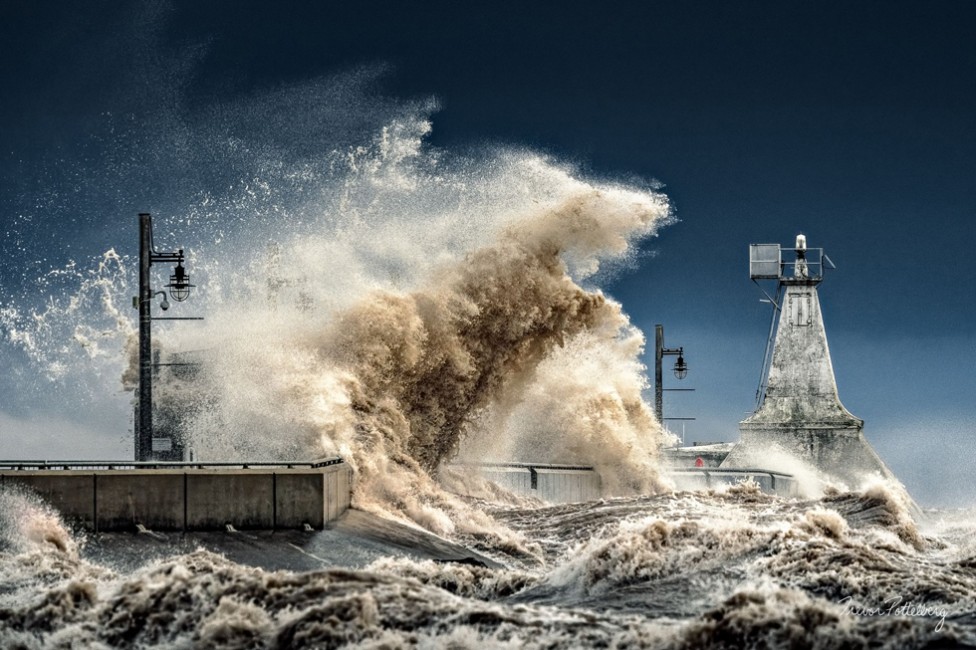 Pier Pressure scored Merit, and won Best in Class and Loan Collection at the 2020 PPOC National Image Competition. 
"While photographing waves during an intense fall storm, I noticed that waves were hitting a nearby pier and washing up and over it at times. I knew that if I could position myself at the right angle, that I could get a beautiful capture. After finding the right spot/angle, I hunkered down and secured my equipment as gale-force winds were building in intensity. It took me a few attempts to catch a huge wave crashing into the pier at the right moment, but I knew as soon as I saw this particular image pop up on my rear LCD screen that it was a keeper.
Special techniques required to capture this image included a solid tripod, long lens, warm clothes, a fast shutter speed, trigger finger, and willingness to endure tough shooting conditions to get the shot.
I absolutely love photographing water! I've been drawn to it since I was a little kid. When the conditions take a turn for the worse, I grab my gear and head into the heart of the storm. To be able to capture a massive wind-driven wave crashing into and over a man-made pier, was pretty cool!"

The Old Schoolhouse scored Merit, and won Best in Class (Pictorial) & Judge's Choice at the 2020 Ontario Regional Image Competition. It also scored Excellence at the 2021 Nationals.
"I noticed this abandoned schoolhouse a year prior and thought it would make a great subject to capture under the stars. After doing some research, I was pleased to discover that I could capture the galactic core of the Milky Way in the scene if I timed it out just right. When the time came for the stars to align, I waited for a clear night and headed out. A nearby barn provided some warm light to highlight the schoolhouse and light pollution coming from across Lake Erie lit up the horizon in a warm glow.
To capture this image, I used a wide-angle lens, tripod, cable release, and a headlamp that changes to red light (to avoid ruining your night vision).
This photo came together exactly as I pictured. It was a very calming and surreal experience to be there in person. When the image popped up on the back of my screen, I knew that I wanted to enter it into competition.
Scoping out locations and subjects is a big part of my process. It could be years later, but I always keep these spots in mind when the conditions are right."

Moonset Kiln received a score of Excellence, and won Best in Class and Loan Collection at the 2015 National Image Competition.
"This is another example of scoping out a location ahead of time and making note of it. After discovering this old tobacco kiln, I knew that I wanted to photograph in at night. The original intent was to include the milky way in the scene, but unfortunately it was impossible to pull off due to a conflict with its position. I thought about another way to highlight this kiln and it came to me. Why not try to include a full moon in the scene? Luckily for me, I discovered that the setting moon would fall right in line with the laneway during the month of June. The moon provided a warm glow over the entire scene. The unique clouds were a bonus, along with some of the brighter stars making an appearance.
A tripod, cable release, wide angle lens, and dedication to my craft to get out of a warm bed in the middle of the night were required to create this image.
This image is one of the most special images that I've captured for a few different reasons. Being that this image won my first-ever Best in Class (Pictorial) Award at the Nationals was huge! It was also my first and only in-person attendance at the PPOC National Convention and Awards Gala. Having my wife there with me at the dinner and watching her reaction when I won the award, was priceless!  
This kiln is no longer there. It was torn down a few years after I captured the image, so that makes it much more special.  
When I titled the image, I didn't know it would cause so much confusion. I was born and raised in Southwestern Ontario where these tobacco kilns littered the landscape. Everyone in the area was familiar with them. The word kiln was part of our everyday vocabulary. Unknown to me, not everyone knows what a kiln is. Some of the judges argued about the title and could not figure out where the kiln was or what it had to do with the image. Lesson learned... don't assume that everyone will know what is meant by your title, especially if you use words that aren't commonplace."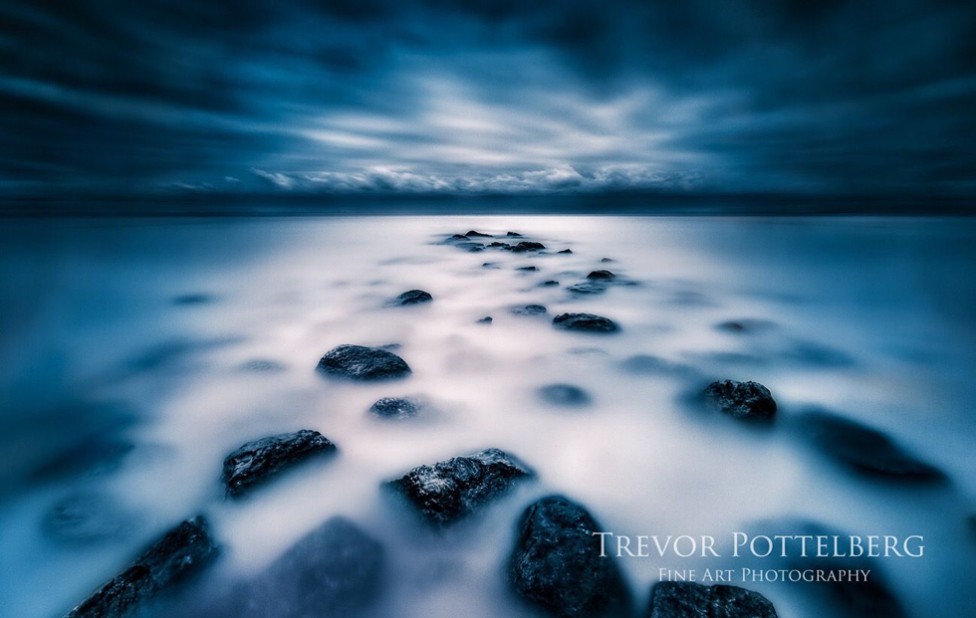 Road to Atlantis won a Judge's Choice Award at the 2015 Ontario Regionals and scored Merit at the 2016 Nationals.
"I discovered this scene while traveling along the Lake Erie shoreline. 2014 was a year when our great lakes reached an all-time low. Many submerged objects began to appear in the shallows. This stretch of rocks would normally be 4 to 5 feet under the water and barely visible. However, on this occasion, they were peaking out of the water with small waves gently lapping up against them. Being that it was overcast and fairly early in the morning, I was able to slap on a neutral density filter and create a long exposure. The ominous clouds really helped finish off the scene. When I saw the resulting image on the back of my camera, I imagined that this is what the road to the lost city of Atlantis looked like.. hence the title.  
Special equipment to create this image included a tripod, wide angle lens, neutral density filter, and cable release.

Due to the water fluctuations of the Great Lakes, locations are ever-changing. This was the first time that I had ever seen the lakes this low and knew that I had to do some exploration. I've never seen these rocks again since I captured this image, making it special knowing that I am the only one with a capture of this hidden treasure."

Solitary Sandpiper scored Merit, and won Best in Class, and Judge's Choice at the 2020 Ontario Regional Image Competition.
 "I had borrowed the 600mm lens from Sony (my dream lens) and only had it for a week. I wanted to put it to the test and see if it lived up to its reputation.  Unfortunately for me, it rained most of the days that I had the lens. Instead of waiting for a clear day, I decided to take it out in the pouring rain and hiked to a local pond. When I arrived, I noticed a little bird walking around the back end of the pond in a marshy area. It kept feeding and sticking its bill into the mud while it probed for food. There was very little wind, so there was a pretty good reflection under it. Once the rain let up, the evening skies opened up and the water's surface became quite still. The warm setting sun highlighted the tall grasses which resulted in a brilliant amber glow surrounding the bird.  
A 600mm lens, tripod, warm camo clothes, a weather-resistant camera & patience were the key factors in capturing this image. 

This was the first time that I had been able to touch/use the Sony 600mm lens. This lens is a dream lens for most wildlife photographers and one that can really open up opportunities to shoot under low light conditions. This was also the first time that I'd seen a Sandpiper in the wild. With the warm marsh grasses reflecting in the calm waters, it set the stage for a beautiful capture. 
For the past 15 years, I've been a Photography Professor at Fanshawe College in London, Ontario. My teaching style and easy-going personality have earned me much respect and admiration from my photography students year after year. I try to bring my love for educating and helping people grow as artists, to every lecture that I deliver.
In my limited "spare" time, I also love to do woodworking with reclaimed materials. My passion for the great outdoors is evident in many of my creations."
Trevor says that for him, Image Competition is the most important part of his PPOC membership. "I absolutely love the competitions. Not only do I get to compete against the best professional photographers in Canada, but I learn so much each time I watch the judging."
You can find more of Trevor's outstanding work on his website, Facebook, and Instagram.