Wednesday, April 1, 2020
NEWBORN LIFESTYLE PHOTOGRAPHERS GIVE BIRTH TO FANTASY FOOTBALL
by Blog Master

(Story by Veronica Scallion. B&W images by V.Scallion. Colour Images by Tamara Taylor.) What does a family do when they have been in a competitive Fantasy Football League with their friends for years and go from Last to First place? Well, when they know an ultra creative PPOC Photographer - their wild ideas can be turned into a reality. This new reality gave birth to a Unique and Creative Fantasy Football Newborn Lifestyle photo project! Here's the story behind how a family won their Fantasy Football League and welcomed their special "newborn addition" to their home.
I am a communication technology high school teacher in Alberta. In my school, I am known for such wacky antics as doing cosplay photography, creating grad convocation music videos, and choosing a celebrity to poke fun at during the holidays with bad Photoshops. Moe, a counsellor at my school, knew I would be interested in his zany idea to use a portion of his fantasy football winnings to really rub in his win with his league. Moe's idea was a family photoshoot and photo slideshow starring the Fantasy Football League Trophy.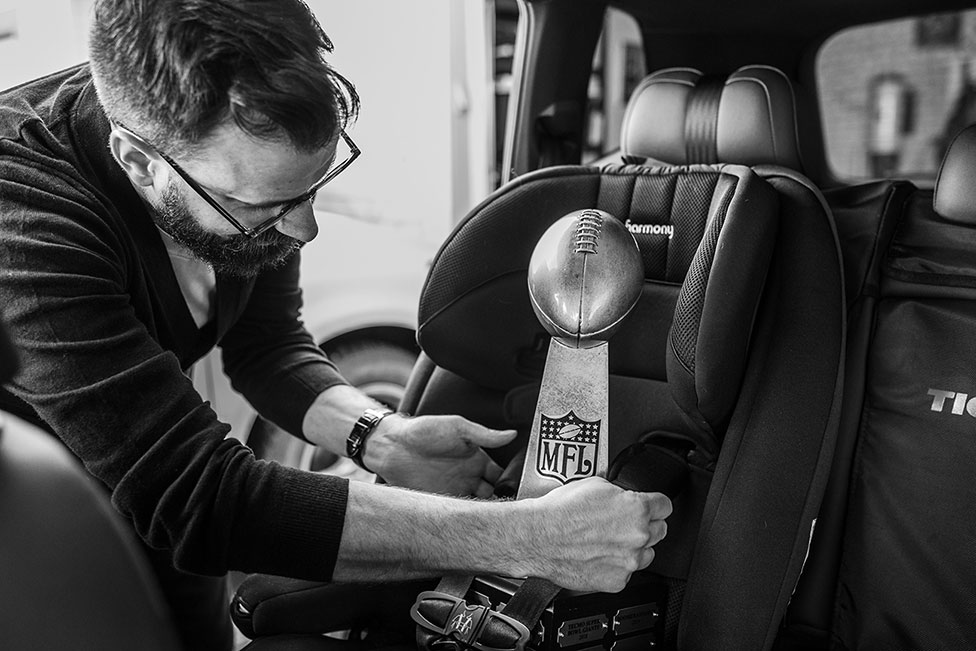 He shared with me a black-and-white birthing story photo slideshow created for his youngest son, and the idea wheels started turning - I was in! I had the idea of black and white photographs telling the story of the trophy coming home and becoming a regular member of the family, leading into a classic, soft, and dreamy newborn photoshoot of the trophy. In order to make this project epic in a manner worthy of the show, "The League", I would need to enlist the help of someone with more newborn and young family portrait photography experience than myself.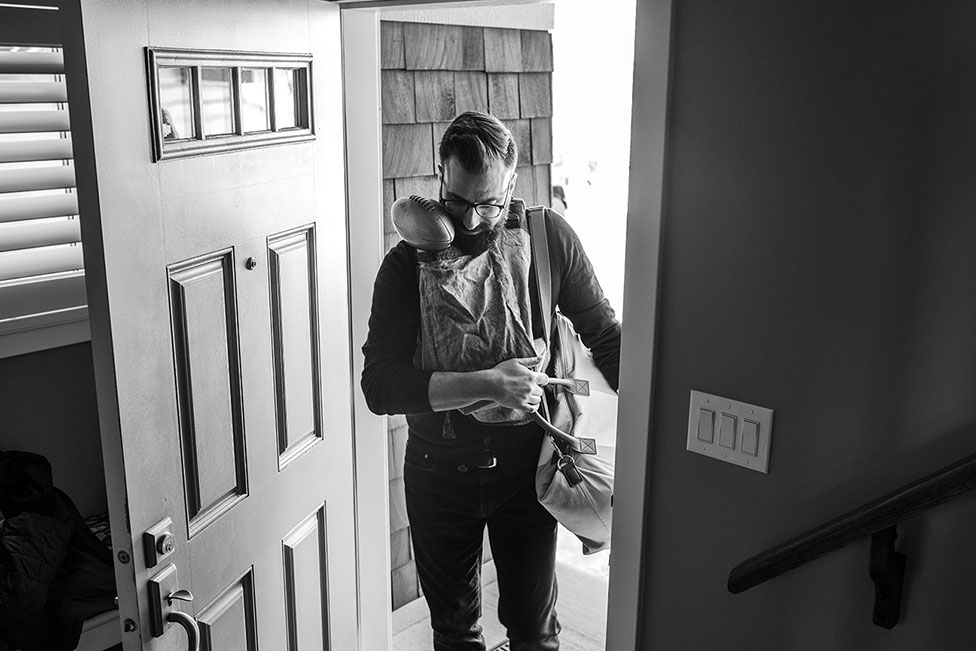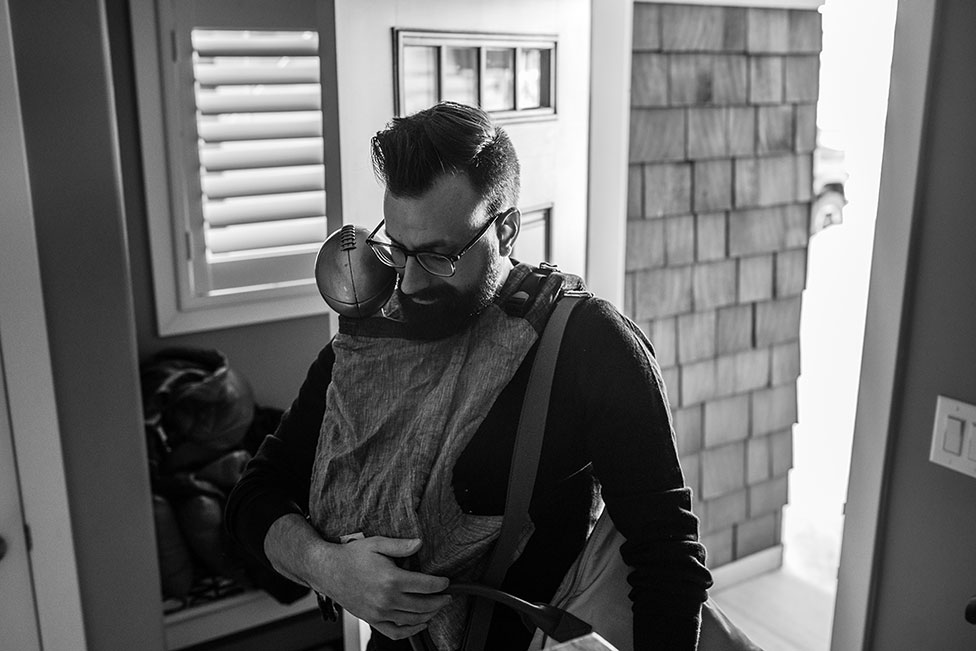 Looking within our PPOC organization for help with this project was a no-brainer. Having a pool of photographers with a wide range of expertise to call upon is one of my favourite aspects of membership in the PPOC. As I was bringing a stranger to the home of a teacher colleague, I wanted to make sure I was bringing the right person. From our code of conduct I drew confidence that I had a list of locals to collaborate with who are dependable and willing to help shape my vision. Tamara Taylor was excited to join me in this project. Her experience with newborn and small children portrait photography made her the perfect compliment for my editorial style. I mentioned to Moe that she is part of my photography organization, which has a code of ethics just as teachers do, which put him and his wife at ease.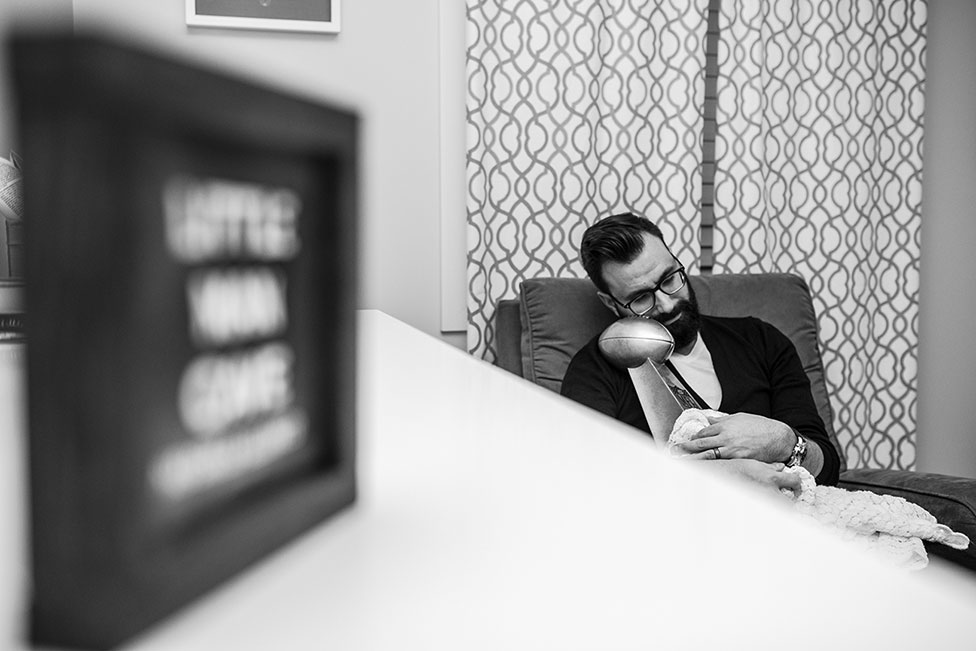 Pre-planning was essential for effective storytelling in my portion of this photoshoot. I had created a Pinterest board of different moments that would capture the story of a new member being added to the family. In an average portrait session, I will refer to a Pinterest board for posing frequently, and I was surprised that the board came in handy during this photoshoot as well. The board was used to help share my vision of the final product.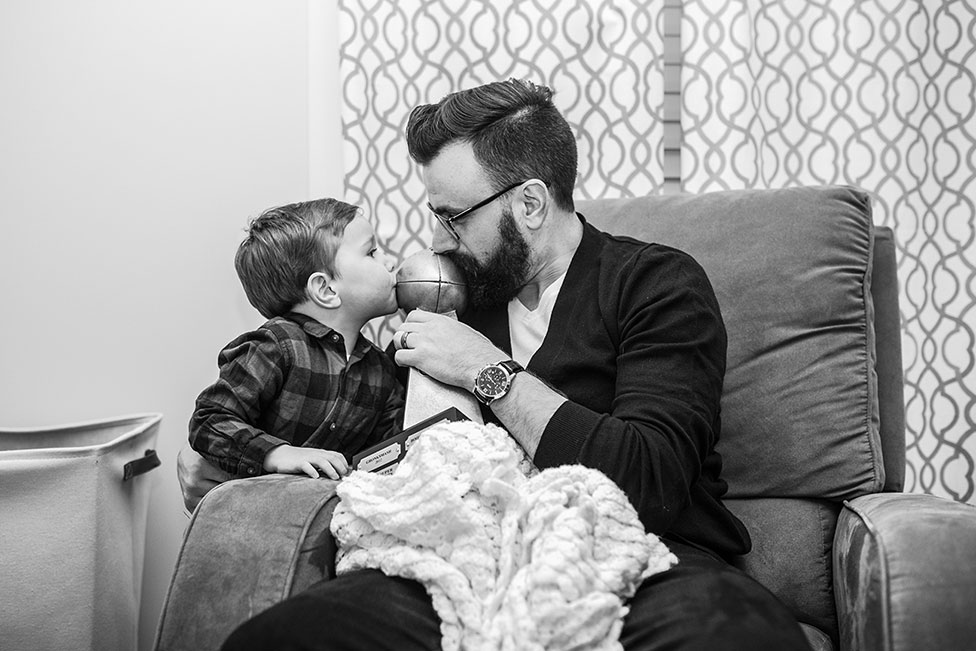 I helped Moe and his family understand the style, that they needed to act naturally in the scene, so I could snap away while they moved about casually. With the desired end product being black and white, I photographed in monotone mode so I could preview the grey values immediately and show a quick back of the camera to Moe.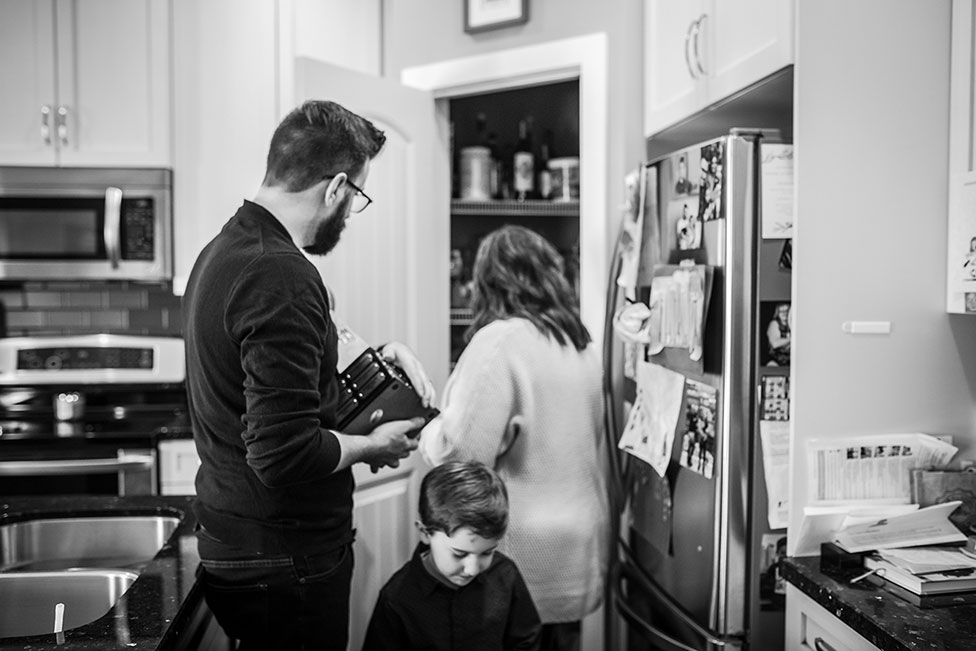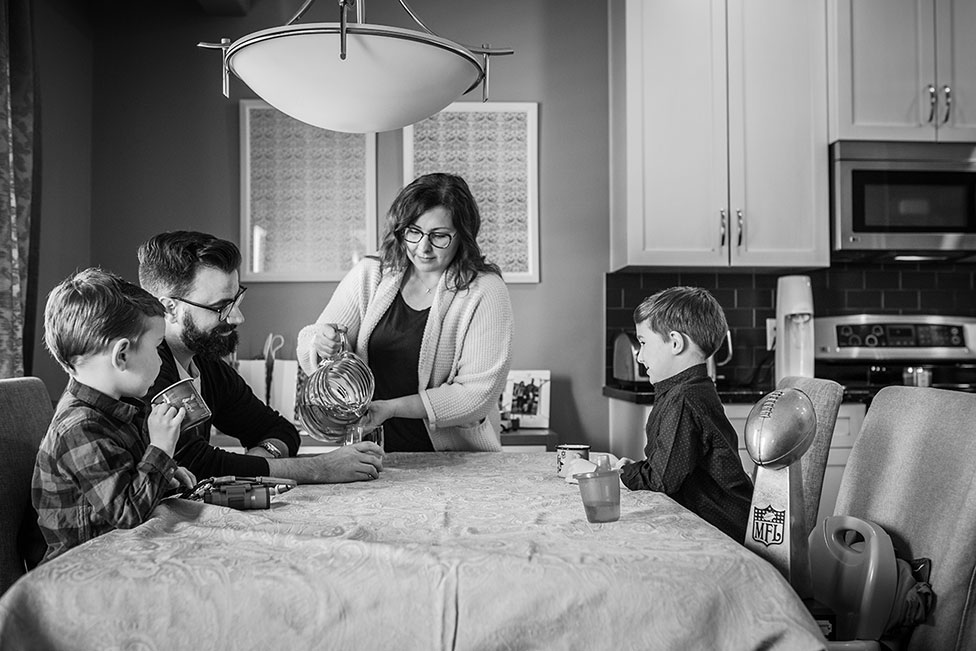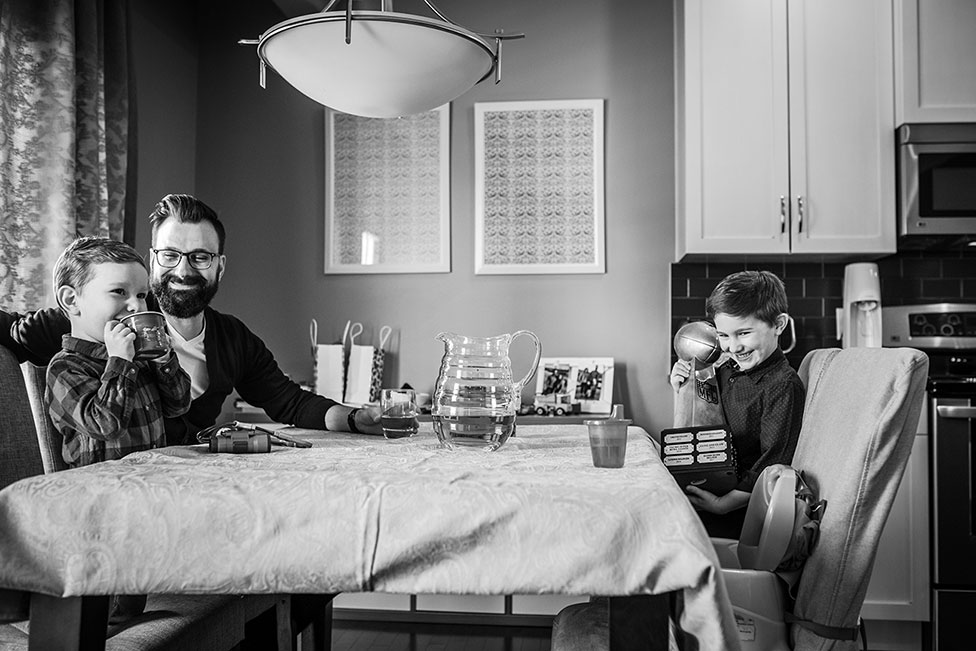 While Tamara set up her portable studio in the upstairs living room, the young children became comfortable having a photographer in the home. The children practiced not looking at the camera while they read a story, had a juice break, and gave the trophy a kiss in the former nursery room. The children then had a break while Moe and I took photos of the trophy in a baby carrier, placing the trophy in a car seat in the driveway.
Once that was done, we all went back upstairs. It was Tamara's time to shine as we all watched her photograph the trophy using her impressively large umbrella and diffuser sock setup. The boys were then excited to be in-front of the camera again, now while holding the trophy. I assisted Tamara by holding up a blanket backdrop, and got to see Moe and his wife's smiling faces as they watched the magic happen. Tamara was fantastic and took photographs of the boys and the family with and without the trophy, a bonus for Moe's patient wife. While Tamara was packing up, the family stayed in the living room and some toys were brought out. This allowed me to get the final scene of the family relaxing together with the trophy.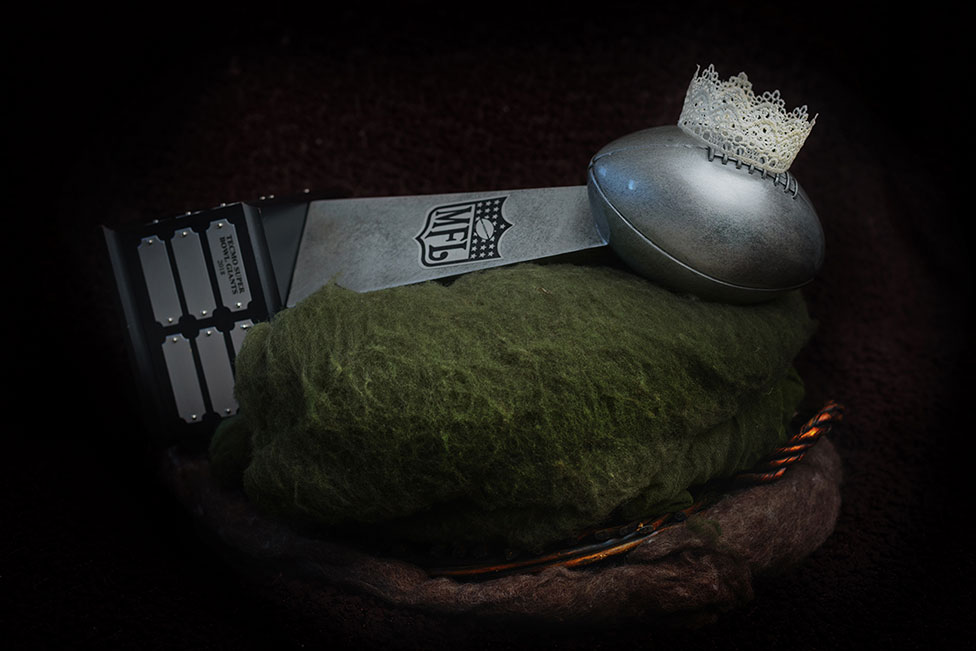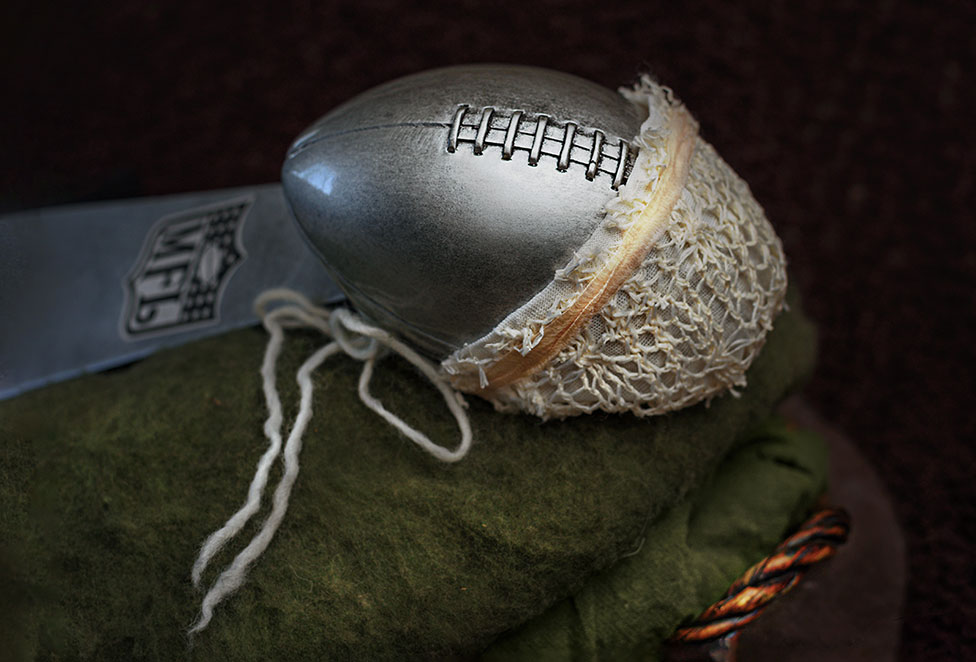 It is always a pleasure to have a project that is out of the ordinary and is a playful take on a classic theme. The opportunity to share the wealth and bring in other skilled colleagues is a fantastic bonus to bringing a vision to life in an over the top manner. If you haven't had the opportunity to collaborate with other members, I strongly recommend it - who knows what epic photos a team of talented professionals will create next.
(Submitted by Veronica Scallion. B&W images by V.Scallion. Colour images by Tamara Taylor).
Veronica Scallion is a photographer and high school communication technology teacher based in the Edmonton AB. area. She became an Educator member in September 2018, attending the conferences in Alberta for two years previous. She achieved her accreditation January 2019 in Fantasy Illustration. Under her own name, Veronica Scallion Photo, she specializes heavily in cosplay/fantasy photography, with a dash of portraiture and weddings on the side.
Tamara Taylor has been a member of the PPOC since February of 2019, and is accredited in Child and Infant Portraits. She is co-owner of Fox & Gem Photography which serves the Edmonton and Parkland County areas in Alberta, and is focused mainly on Fine Art Children's Portraiture, as well as styled maternity, newborn, and dance portraits. She recently joined the Alberta North Branch Board as the Education Chair.