Friday, October 16, 2020
HALLOWEEN PHOTOGRAPHY - CHILD VAMPIRE
by Blog Master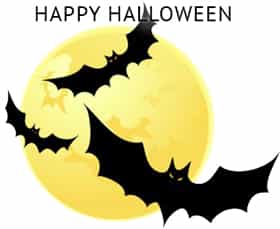 (Submission by Heather Friar). I have had the pleasure of working for Shadow's Gate Charity Haunt in Leduc Alberta for a few years now as their principle photographer. They raise money for the local food bank. Last year we brought several of the characters into my home studio to get some "wicked" shots using strobes. Anyone who has seen my art will know that type of image is right up my alley. I love taking literary characters and bringing them to life and have been heavily influenced by Rembrandt and Film Noir type lighting.
My Husband is my assistant and helps with the lighting and moving the heavy stuff. I have included the in-camera shots and the final images.This shoot we were shooting the Corn Witch and Olivia, the Child Vampire. I have found that shooting this type of genre, overhead lighting is great for creating the right mood. The intent was to have her walking the streets of London under a gas street lamps and the light of the moon.
(UNEDITED IMAGE - SOOC)
We shot using my Elinchrom D-lite 4 with a reflector and grid to give a harsh overhead light. We also used a 3 foot strip light with grid to the right and rear of the subject as a rim light then added a fill light low on the ground with an umbrella to the right and in front of the subject as well to ensure we captured details at the floor level.
Olivia has been a model for me in the past as she has been involved in pageants and I have taken photos for her and her mom. She did a great job of channelling her inner vampire. When your parents make an epic haunted house every year you probably have a pretty good idea of how to do creepy. The in-camera result was exactly what I had hoped for. I shoot tethered to my tablet so I can easily review my shots.
I was shooting with my Canon 70D using a Tamron 18-50mm f2.8 lens. My studio is 11' by 14' with an 8-foot ceiling. I typically use up to 5 separate lights, my background is 50% grey paper. I tried green screen but I had too many issues with hair and reflective surfaces picking up the green and increasing my workflow time.
In postproduction I use Lightroom and Photoshop CC. First in LR I evened out the colour balance, added a bit of clarity and made some minor adjustments to the exposure and contrast. I exported to PS as a smart object. I created a new 8 x 12 canvas in PS and went searching Shutterstock for back grounds. For this type of work, I often purchase stock backgrounds. I am building up a library of my own stock over time, but I don't always have the stuff I need for this type of work.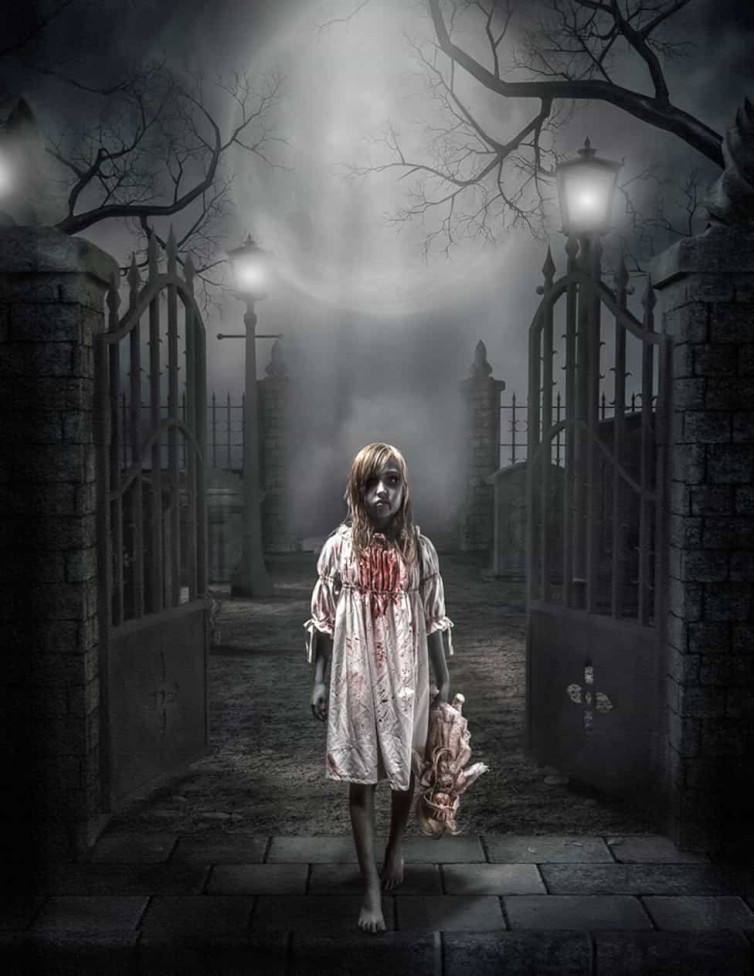 (FINAL EDITED IMAGE)
I found a great image of the gates of a cemetery with the moon in behind them. I layered the two images, added some fog and some shadows from the original shot. Matched the colour tones then did burn and dodge to get the contrast just right. I changed her hair colour and matched her arms and legs to the face makeup as they did not have makeup on them. I added a textured filter to give it a painted look.
I love getting the models to actually walk towards me as I find I get a much better shot than just trying to pose them. I brought it back to Lightroom and finished up my editing adjusting the overall clarity, colour and contrast.
I added a print to my home gallery in an antique oval picture frame with a convex glass that suites it just fine. I am very pleased with the outcome for this photo and have received numerous comments about just how creepy it is.
Perfect!!
I also added Olivia's Tea Party.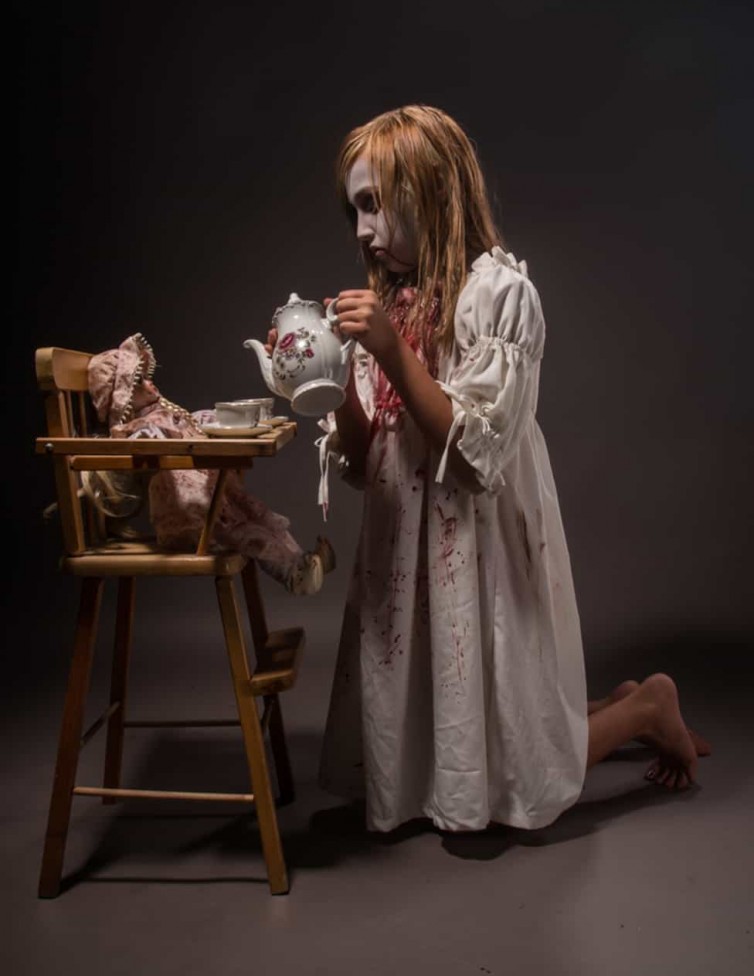 (Unedited - SOOC)
On this one I used a couple of overlays to give the impression of a wall with bloody handprints on it in behind her.
And you will note that she is serving her guest blood from the teapot.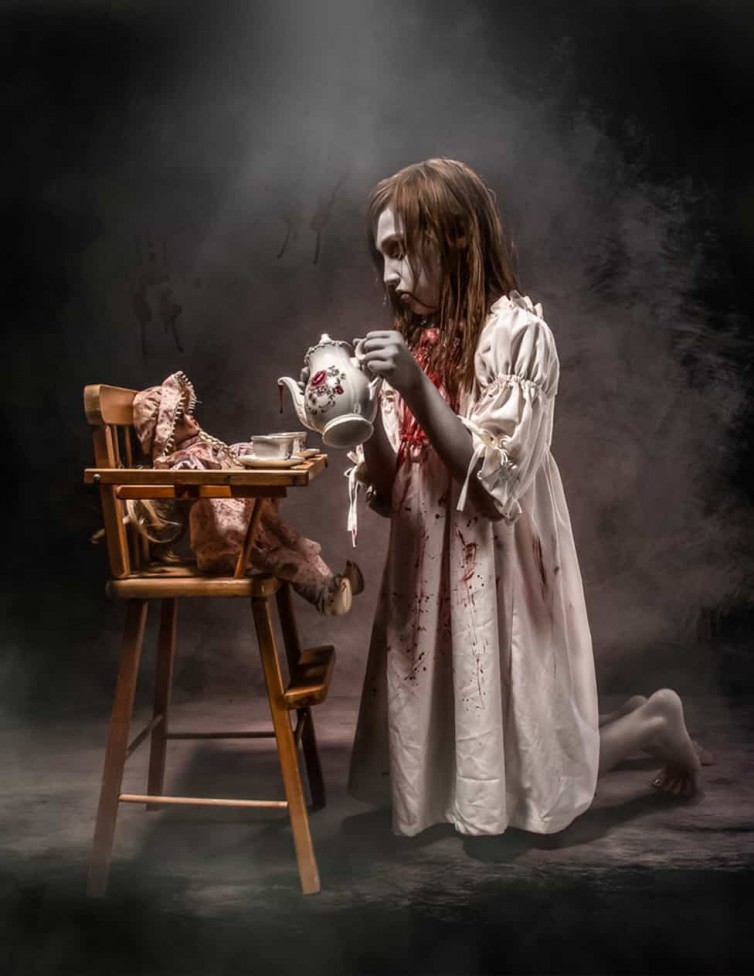 Happy Halloween All!
Heather Fryer is a member of the Alberta Chapter of the PPOC and is based out of Edmonton, AB. She has been a photographer for over 15 years and is Nationally Accredited in Image Manipulation. Heather has been the winner of Canadian Association of Photographic Arts (CAPA) winner in 2019 (First Merit) for Portrait, as well as the 2020 Award Silver Medal and Second Merit for CAPA. She specializes in Automotive, Fantasy Portraits, Bands, Equestrian, Family and Fitness Photography. You can find her work at: Visions Of Heaphen Photography.