Tuesday, November 2, 2021
ACCREDITATION GIVES YOU WINGS - MARK LAURIE
by Blog Master
Submitted by Mona D'Amours in collaboration with Mark Laurie: I was intrigued by Mark who has 37 accreditations. Since I struggled with accreditations, I wanted to know his secret. How did he do it? Why did he do it? What were the benefits? When I approached him, I wanted an S.O.S. plan, Secrets, Opportunities, Success with accreditation.
Secrets: Mark started submitting images for accreditations more than 25 years ago. Persistence is one of his secrets. You would think that 37 accreditations would be enough, but not for Mark. His goal is 40. Why? His answer is simple. "I like to be challenged. Accreditations are a means to an end. It has a very focused purpose to it." Every time he has a new accreditation, a project, he explains "I'm able to talk to my clients about it as a way to show the versatility in my work. I can approach my clients with these projects. That turns the accreditation into an excellent marketing/income tool."
Opportunities: "When I started winning awards, I could have sat on my laurels. But I can't be on the cutting edge by resting on my laurels. I want to be relevant. The accreditations increase my profile. I've been invited as a speaker and judge because of them. Becoming a judge, you look at your work differently. You get better clarity, and raise your own personal bar."
"I've judged for WPC several times. You see the world's best. The quality and creativity of the work is just stunning. That increases your desire to grow. You step out of a circle of people that accepts things, and have a lesser vision. If they don't seek to grow, their photography can't change. As you step into the background as a judge, your growth as a photographer will take huge leaps."
Success: The accreditations have forced me to "step outside of my skill set. I got my jewellery accreditation which is way beyond my female nude niche skill set. There was this massive learning curve. It's fun. It's challenging. The accreditation judges don't always agree that I've done a marvellous job. It doesn't bother me because it's part of the process. If I get five accepted, then I have five reasons to get my clients engaged in creating five more images."
"People of note look at what you've accomplished as a photographer. It's not about being great. It's also about being helpful. You get acknowledged as being more than your images, especially if you teach and share your craft." There is a brief bio of his success as a photographer at the end of this blog. Mark sent me several images to consider for this blog. I chose the ones that demonstrated his versatility, and creative bold approach to photography.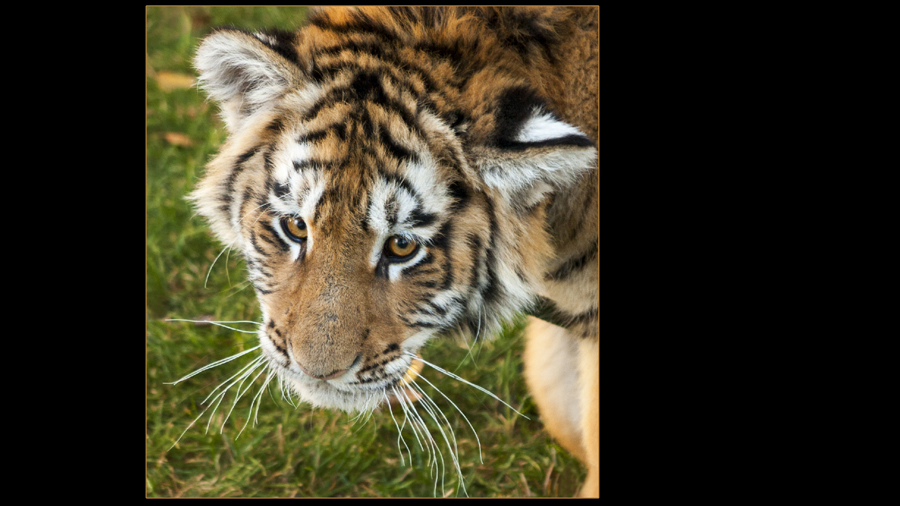 Accreditation – Feline – 31: His first image may not be his best, but it is his favorite of the set. "The cool thing about this shot is that it's actually done in my backyard. For several years, I brought lions and tigers into my studio. We gave four-month-old Tasha a break letting her play in our backyard. I played catch with her, and she was mischievous as hell. This image is close to my heart because of that and since it was one of the first ones accepted in the Feline category."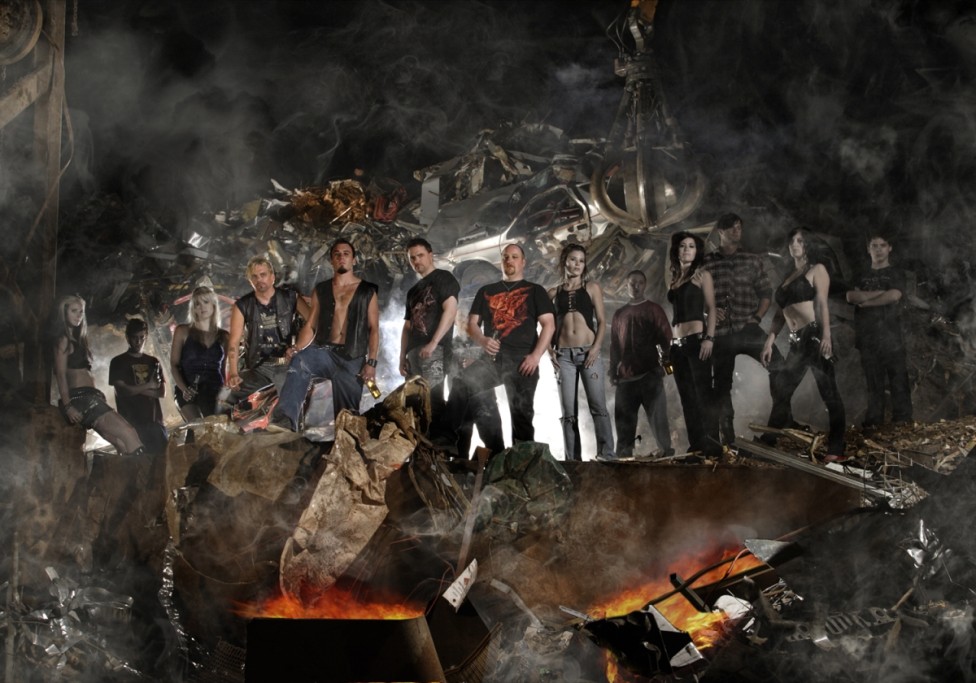 Accreditation – Environmental Portrait – 21: Junkyard Band was photographed at dusk. "The first four guys in front are the actual band. Then they came with a bunch of friends. We had fog machines and lights. It was a dangerous place to photograph. There's some digital work with some of the fires. Most of the smoke is real. We brought lights in. We had extension cords and battery packs; it was quite a production. The band bought the image as a promotional piece. Several girls launched their modeling careers including the image in their portfolios. It was really an adventure. And this is what you get by pushing the envelope. This was a blast.
Accreditation – Figure Study – 32: This image was captured on film. "I actually painted the background. I projected the blinds with a Norman TriLight. You put a metal filter Gobo in front of the focusing lens converting the flash burst to blinds. Voila, she's behind blinds perched on a plank which I made from a one-inch board with steel reinforcement so it won't bend. It worked. She bought a copy."
Accreditation – Jewelry – 41: "Jewelry was a struggle for me. This particular necklace was a jewelry piece I gave my wife. I collaborated with a product stylist for some of the shots. She would prep the jewelry. It was challenging. The hours I put into this was just huge. I did sell some of the photographs to my clients modeling the jewelry. The jewellers also bought some of the images. So, I actually made a fair bit of money on my jewelry accreditation."
Accreditation – Nature – 48: I received accreditation and a photography award for this image. When an image is accepted through accreditation, it gives you a pretty good clue that it's going to do well in competition. "This particular image was taken from a helicopter. It was a Christmas gift for my wife. We squashed into this helicopter. Jan and another girl got the front seats and three of us guys were squished in the back. Thank God for autofocus. I had to shoot on the fly because we were moving pretty fast. Once I got the shot, I wanted to give it that dreamy quality, so I took it back into Photoshop adding filters to give it a slight painterly quality. And I just loved the bird flying in the middle. I'm pretty proud of this shot. This is when "accreditation gives you wings."
Mark Laurie holds a Master of Photographic Arts (12 bars), Photographic Service, PPIC Fellow, Karsh Lifetime achievement award, 37 Accreditations and was the 2017 Portrait Photographer of the Year. He holds 4 International Photographer of the Year awards, an SWPP Fellow, PPA Master Photographer and Master Craftsman.  Mark is a National and International certified photography judge. He has written four photography books, had his own TV show, has photographs in space, and was a Photography Reality Show Winner. Mark's niche is Boudoir and Nude portraits. http://innerspiritphoto.com