Wednesday, November 10, 2021
TIPS FOR LONG EXPOSURE PHOTOGRAPHY - THE ART OF SEEING WHAT YOU CAN'T SEE
by Blog Master
Submitted by Dave Hutchison Over the past six years, I have produced dozens of long exposure seascape images in part to living minutes from the BC coast on Vancouver Island. There are lots of applications for long exposure photography to communicate motion, drama, and just something that is artistic.  The subject could be clouds passing through mountain passes, people in a busy courtyard, car headlights in a traffic circle and the list goes on.  My specialty within Long Exposure Photography is seascapes.
The tips I am sharing can be applied to any long exposure image. Of course, these will vary from subject to subject. Some images will require filters, some won't.
Use a tripod with a solid tripod head. This may seem like the obvious to many photographers, but believe it or not, it remains something that I mention in my workshops time and time again.  Over the years, a carbon fibre tripod is preferred over an aluminum tripod.  Carbon fibre absorbs vibration, whereas aluminum can sometimes contribute to camera vibrations.  Aluminum is cheaper, but don't be swayed by price. Carbon fibre will be your best bet for landscape and wildlife photography in general, including long exposures.  Carbon fibre tripods are also lighter too. A solid tripod head is also essential as you do not want any movement in the tripod head when the shutter is open for an extended time period such as a long exposure image.  Ensure the tripod head is securely attached to the tripod, and the camera body plate is also secure.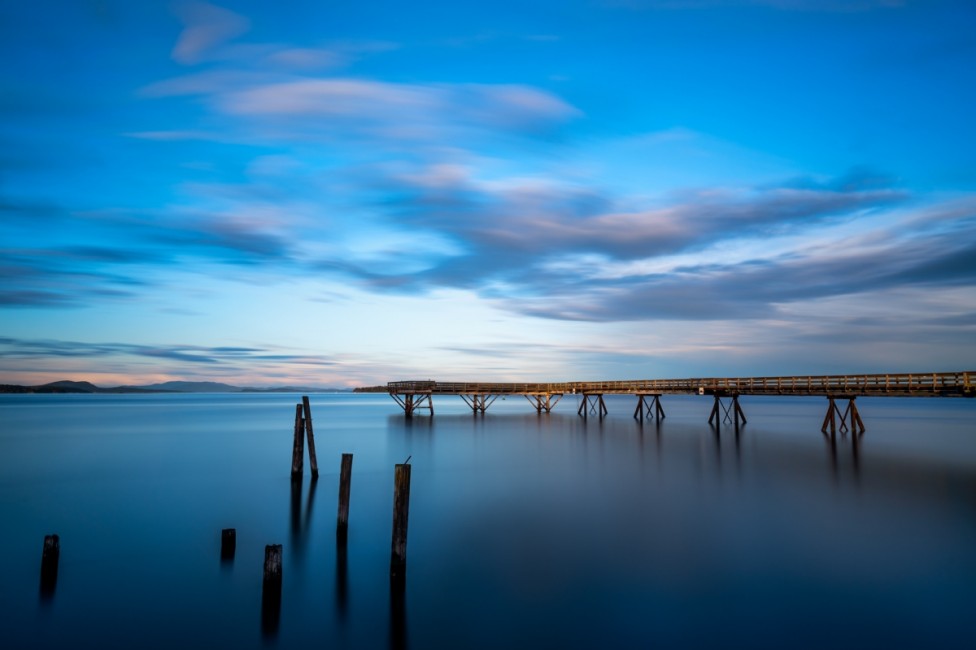 Lovin the Blues ISO 50, f/11, 13-1/2 mins, Singh-Ray filter 15 stop mor-slo ND
In the above image "Lovin the Blues", the clouds were what I call "lazy" and not moving much at all.  When conditions are like this, an extra-long exposure of 10 minutes is often required to communicate motion.  A carbon fibre tripod was essential to produce this image and keep it sharp.  I recommend the FLM Canada brand of tripod and info can be found on my web site at https://davehutchison.ca/affiliates/
Make sure you have a long exposure calculator app on your phone. Having an app like the Long Exposure Calculator 2.0 by Junel Corales speeds up the process when calculating what exposure time you will need to use based on the "base exposure" and the filters available.  The App is available in the Apple store for free at the following link. https://apps.apple.com/us/app/long-exposure-calculator/id694553269
Calculate your base exposure. Calculating your base exposure is crucial to a successful long exposure image.  I teach putting the camera in aperture priority, no filters, and no exposure compensation (0 EV), to get your base exposure. Put the ISO to lowest native ISO and pick an aperture between f8-f/11 which will vary with the subject matter. Depending on the density of your filters and the subject/scene, adjust the variable accordingly.
Acquire focus with auto focus prior to mounting any filters on your lens. I often use a 15 stop neutral density filter (ND) since the camera will not focus through that filter. It is important to focus your camera after you are happy with the composition. Then put the camera or lens to manual focus.  This is the best practice to avoid inadvertently selecting focus again by habit when the ND filter is attached.
Most of the time filters are required especially in bright light. As required, depending on the light available at the scene, attach your selected neutral density filter (10 & 15 stops are most common and a 15 stop is essential for long exposures during the daytime) to the front of your lens (either thread on or a bracket system are the two most popular options).  I, myself, use all threaded filters.  I like the simplicity of the thread on system.  The image below "Magical Moment" was created at a long exposure workshop I held in 2020 at Mystic Beach on Vancouver Island.  During the 6-3/4 min exposure, I am able to leave the camera to create an image and teach at the same time.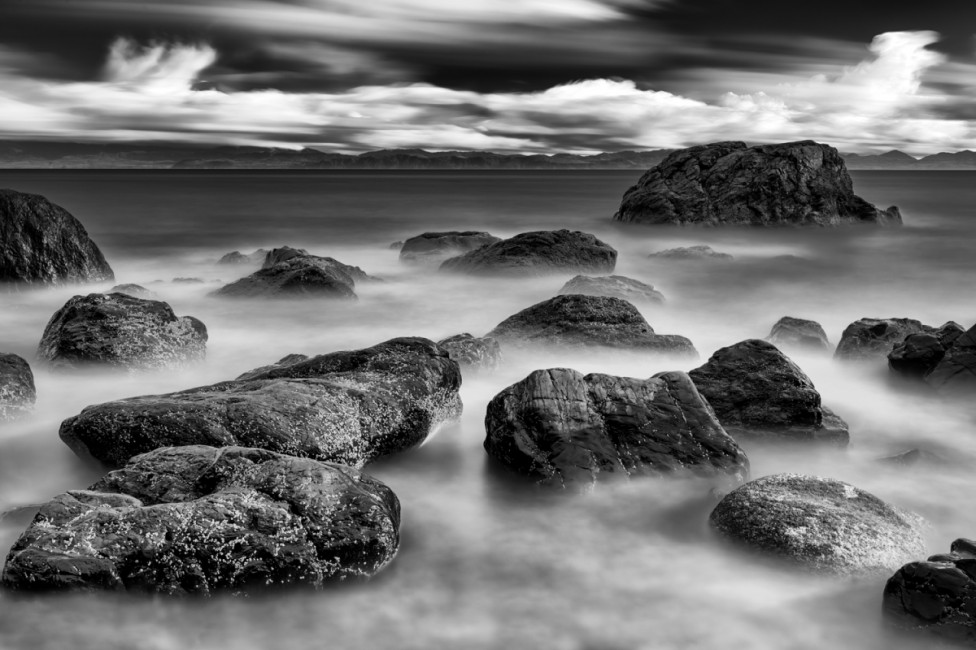 Magical Moment ISO 64, f/14, 6-3/4 mins using a Singh Ray Filters 15 stop mor-slo ND circular filter
Accepted image – 2020 PPOC-BC Image Salon
Filters I recommend, along with discount codes can be found at https://davehutchison.ca/affiliates/
Occasionally, depending on the conditions, a long exposure image doesn't need any filters. This was an image taken in the Dolomites, Italy.  As the clouds were moving fast, I felt minutes were not necessary to communicate motion and drama in the image.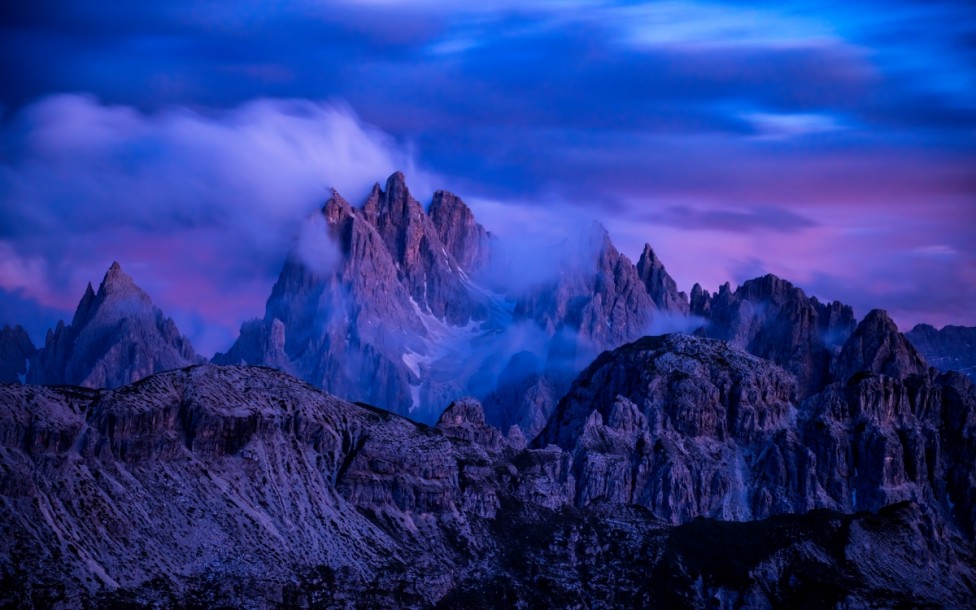 Night Moves ISO 400, f/2.8, 30 secs – no filters
Accepted Image – 2021 PPOC National Image Salon
Sometimes a high-quality polarizer can provide enough "density" to hold back light and create a long exposure. In this image, the tide was moving quickly, and I did not need a really long exposure time.  If I extended the time more, I would start to lose the texture in the water.
Coming and Going ISO 125, f/11, .4 secs – Singh Ray filters LB Color Combo Polarizer (thin mount)
Accepted image – 2019 PPOC National Image Salon
Once the above steps are complete, switch to manual priority. Don't bump the focal ring if using a Zoom or you will have to set focus again, and select "Bulb" or "Time". The Bulb or Time function allows you to have manual control of how long the shutter will remain open, hence recording a long exposure image.  I use the Time function almost exclusively for long exposures as it gives the photographer the ultimate flexibility in the creative process.
You are ready to take the shot!!! Good luck with your long exposure image.
Dave Hutchison is an award-winning landscape and wildlife photographer based near Victoria on Vancouver Island. Dave has been a PPOC member since 2013 and won Best in Class in "Fine Art" at the 2020 PPOC National Image Salon. Dave has three PPOC accreditations – nature, pictorial/floral, and wildlife.  Dave is also an International Brand Ambassador for Singh-Ray Filters based in Florida - discount coupon code dhi15 for 15% off at checkout at https://singh-ray.com. Dave leads multi day workshops for landscapes and wildlife photography on the BC coast & The Great Bear Rainforest.  Dave also offers webinars & private Zoom sessions around the globe on Long Exposure Photography – "The Art of Seeing What You Can't See".  Details can be found at https://davehutchison.ca/