Sunday, January 30, 2022
WHY PPOC PHOTOGRAPHERS ARE AMONG THE BEST IN THE WORLD
by Blog Master
Submitted by Mona D'Amours in collaboration with PPOC member Christian Redermayer who has been recognized with prestigious international awards in the past two years for his photography at International Image Challenge IIC, USA; Wedding & Portrait Europe Awards WPE, France; Epson International Pano Awards, Australia; International Photography Awards IPA USA; Tokyo International Foto Awards, Japan; Monochrome Awards, International black and white photography, and Monovision Photography Awards, leading black and white photography Magazine Awards. Discover why he has reached top awards in all these competitions, and why he was named Commercial Photographer of the Year by International Image Challenge IIC 2021. We begin with his architectural and product illustration Gold Medal awards with IIC. Be inspired by all the winners of Master Photographers International Image Challenge IIC promotional video.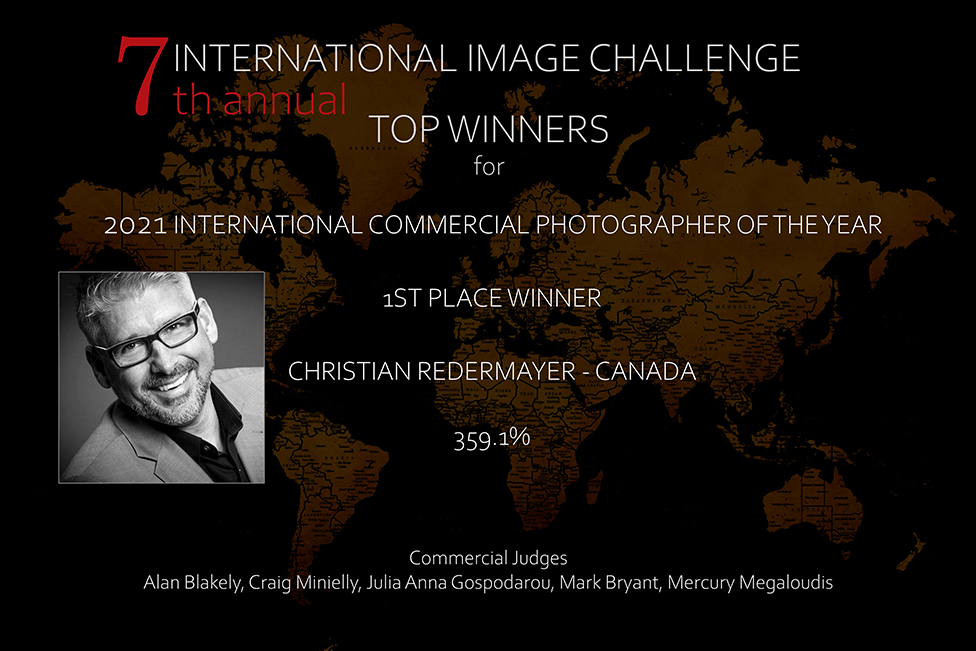 Master Photographers International Image Challenge IIC 8:29 - Commercial Photographer of the Year 2021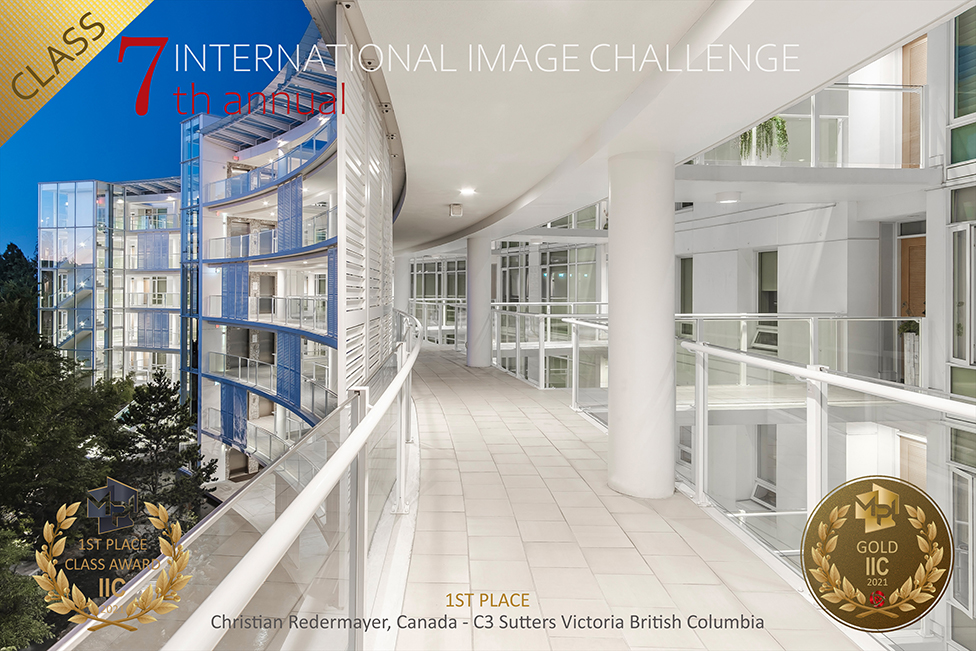 International Image Challenge IIC - First Place - Gold Medal - Architecture - Sutters Victoria British Columbia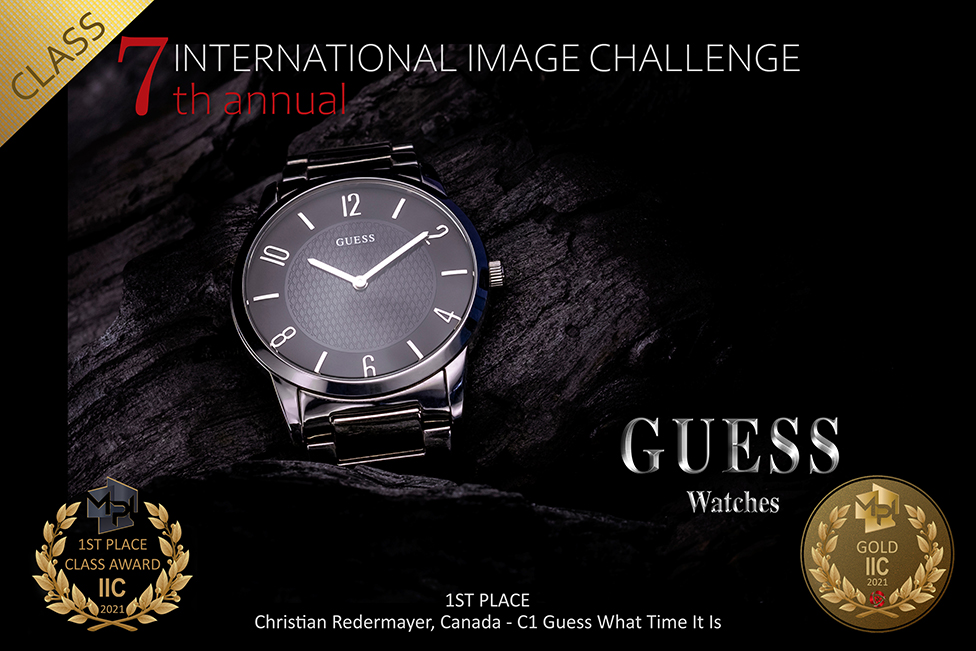 International Image Challenge IIC - First Place - Gold Medal - Product Illustration - Guess What Time It Is
How long have you been a PPOC member? Since July 3, 2019. I joined PPOC as a student member right before my graduation at VanArts. After I earned my first two accreditations in Product Illustration and Fine Art / Photo Decor in February 2020, I was a proud accredited member of PPOC.
What experiences within PPOC helped you reach international excellence in photography? My mentor, Jillian Chateauneuf. She was a great mentor who gave me advice how to take my first baby steps in the organization. It was a huge learning process for sure when I submitted my first two images as a student to the BC Image Salon in November 2019. It was so difficult just to select my best images, and guess which ones were the best. It was my mentor at VanArts, Ian McGuffie who helped me with selecting my work since he was once an Art Gallery owner.
A few weeks later, I was overwhelmed with the earned results with Best in Class awards. More important was receiving such helpful feedback from the judges. I kept and still keep pushing myself over so many limits, and of course, I failed many, many times. I submitted my work to as many international competitions as possible, just to be inspired by all the work of the other creators.
What advice would you give PPOC photographers who want to excel? To be honest, that is an excellent, but difficult question to answer. I think my vision is to always evoke emotions, to tell a strong and unique story with my photography, and make an ordinary scene extraordinary. I try to visualize images which I've taken in my mind. My advice for any photographer is to follow your vision. Do not copy the style of other photographers. Be unique. Push yourself out of your comfort zone, and grow with your experiences.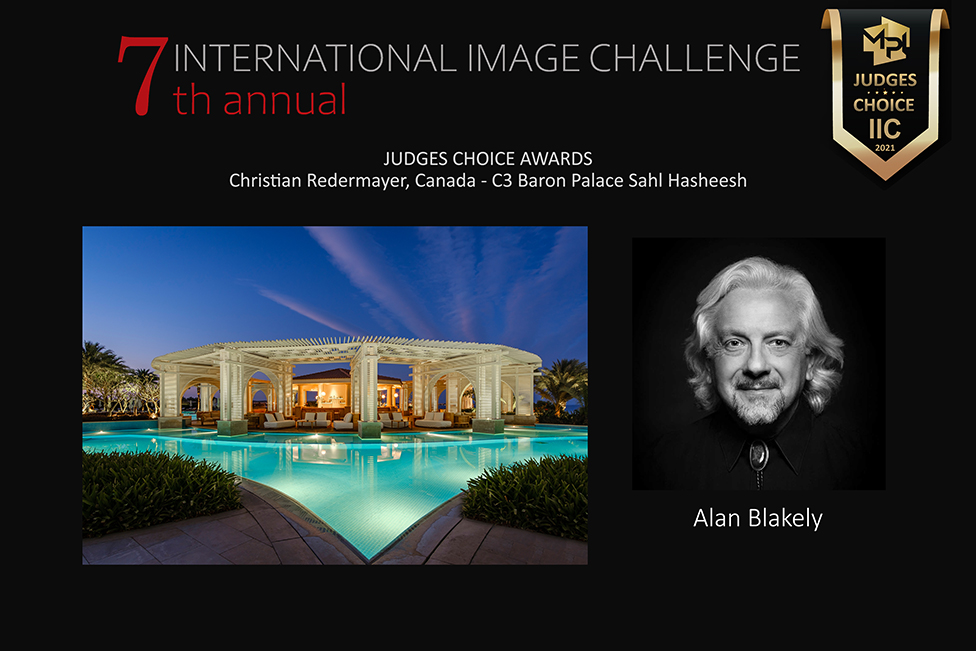 Master Photographers International Image Challenge IIC 5:44 - Judges Choice - Architecture - Baron Palace Sahl Hasheesh
Epson International Pano Award - Bronze Medal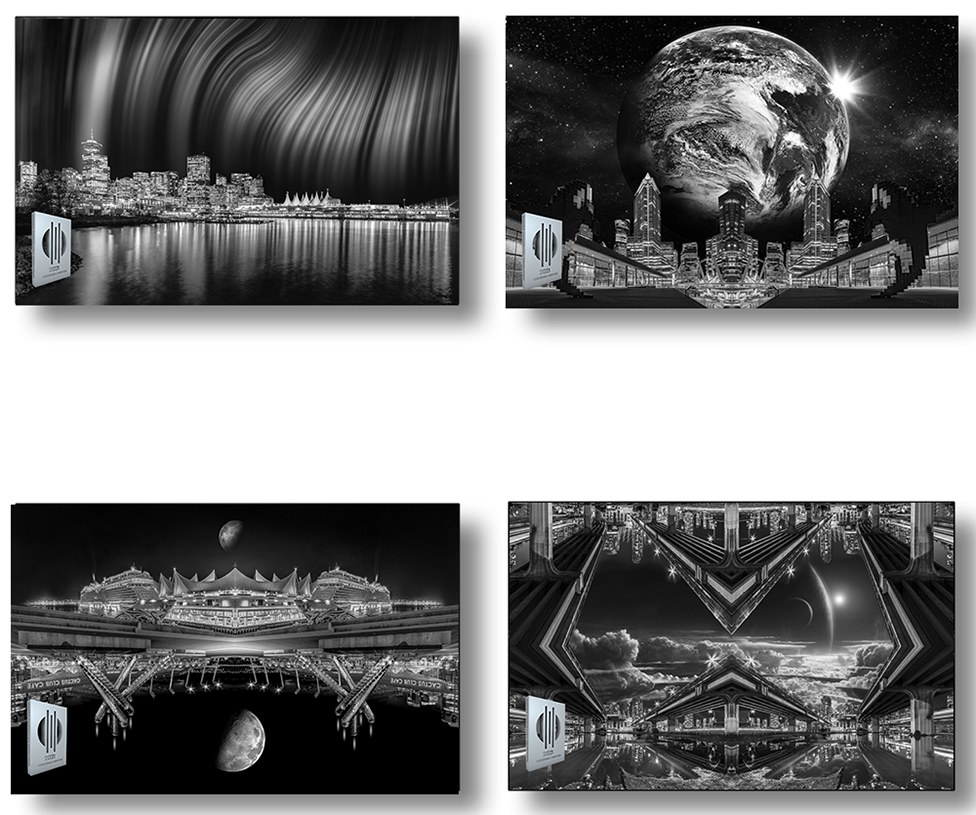 Monovision Photography Award - Black & White Series 2021

Christian and I exchanged ideas about the key to success. We both agreed that it was based on our approach to life. This is my approach. As a former professor of psychology in my twenties, I developed the course Psychology of Success which I taught to over 3,000 students. It's a simple concept, and easy to remember with the acronym WALL.
Briefly, success has a different meaning for each of us, but the path to success is the same for all of us.
W - WISH - WILL - WORK
Wish with your head. Will with your heart. Work with your body.
A - ADAPT - ACCEPT - APPRECIATE
Survival skills to face each new challenge in life.
L - LOVE - LISTEN - LAUGH
The greater rewards of life as we overcome our challenges.
L - LOSS - LEARN - LIFE
Everyone can win, but loss is the best teacher in life.
With loss, we learn to break down walls that face us.
To fight for our dreams. To be the best we can be.
To make the difference we want to make.
What do you do Christian when you're up against a WALL? My mom and my dad taught me as kid. Follow your dreams, and try to realize as many as you can Christian. Life is too short and time doesn't come back. Be grateful for little things. Be kind and respectful to others. Stay positive even during tough times. Learn and grow from mistakes. Smile to the World and the World will smile back to you. It sounds so simple and easy, doesn't it? 
In the last three years, I had enough experiences being up against the WALL and following the advice of my parents. Being successful in earning awards doesn't automatically mean my photography business is running successfully as well. It has been a rough and tough rollercoaster ride making a living with my passion as photographer. However, I keep pushing myself. Learn, grow, stay optimistic and positive. And I'm sure all the effort will pay off one day. Without the support from my wife, it would be mission impossible. I'm so grateful for having her on my side.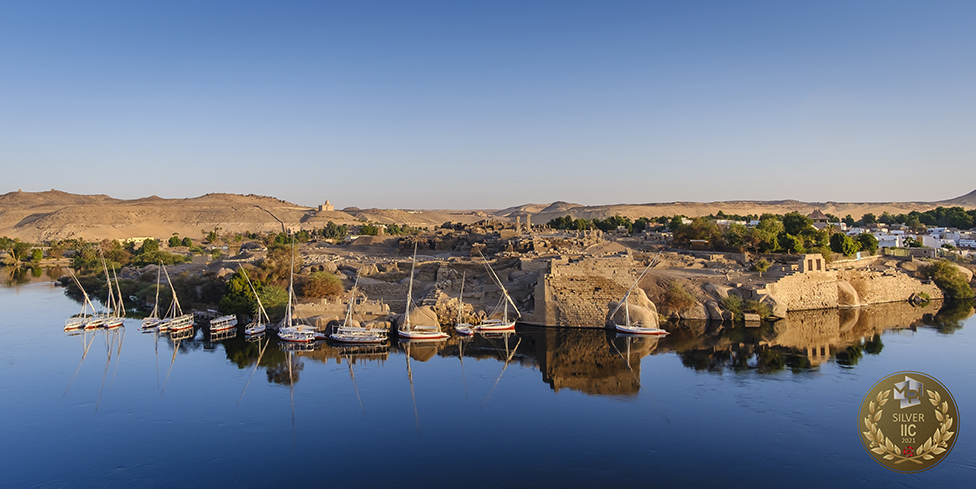 Master Photographers International Image Challenge IIC 10:07 - Silver Medal - Golden Morning at the Nile

My answer to the same question with respect to PPOC? As an organization, PPOC has been my support network during the tough times of the pandemic. It encouraged me to come up with new ideas, and keep working hard to achieve them. Wish - Will - Work. It does pay off. Some of you may remember that I posted on the Facebook page that it took me two years to obtain my pictorial/scenic accreditation with 33 rejections. Adapt - Accept - Appreciate. PPOC has adapted by keeping in touch with zoom sessions, monthly bulletins, our members Facebook page, and competitions with excellent judges.  We appreciate the virtual Canadian Imaging Conference and Expo with outstanding speakers, break out rooms, and social events. Most of all, it is the people I appreciate most, those who gave me feedback from accreditation and competitions, encouragement from my mentors, Jamie Poh and Steve Pelton, and connections I've made through the blog. Love - Listen - Laugh PPOC members love photography. This is a sampling of reasons why we love photography, and this. The world is having a love affair with photography. Why? Because it's become so simple even my grandchildren know how to do it. One the most important benefits of PPOC is that we share our knowledge. We listen and learn from one another, and once in a while we have a good laugh on zoom. Hopefully, this will continue in person after the pandemic. Loss. Learn. Life. Have you ever thought why it is so important to learn from loss? It is to teach us to survive and even thrive. In my business 5678 Showtime which I founded in 1994 to host dance competitions across Canada, we had a huge hit March 15, 2020. With over 10,000 youth registered for our competitions in 2020, we had to shut down. Youth could no longer dance, but we are resilient, and we're back on tour in 2022. We teach youth that you have to earn your awards unlike many dance competitions that award everyone regardless of effort or ability. 5678 Showtime Promotional Video supports our mandate. This is what PPOC taught us by example, and we appreciate it. Thank You for everything you do for us. Of course, it's an absolute joy to win. Christian Redermayer can tell you that. So can Team Canada in soccer. Team Canada beats Team USA, and moves one step closer to the World Cup in Qatar 2022. Canada remains undefeated January 30, 2022, but that's not without all the losses since 1986.
Mona D'Amours, National Blog Chair is an accredited PPOC member in performing artists, and pictorial/scenic. She is the Founder, 5678 Showtime, and Director, Dance World Cup. Mona has been shooting performing artists for the past 20 years for her company, and for Cirque du Soleil. Her greatest joy is producing slide shows with music and lyrics from her photography. Her last meaningful work is from Dance World Cup 2019. Ironically, the first slide is Our Freedom. She has been married for 42 years with 3 children, 5 grandchildren, and one due March 2022. She is also a third generation photographer. Her grandfather was a photojournalist, and her uncle was a portrait photographer. Discover more about Mona on her website. Watch for her next blog about Canadians in the Top 10 at WPC, World Photographic Cup.
Christian Redermayer is an award winning photographer who loves to deliver promises of Swiss quality to his clients in Fine Art and Architectural Photography. Born and raised in Switzerland, he worked for a leading Swiss Television company, and in sports, retail, finance, and IT communication sectors. He also worked as a motorbike tourist guide to discover the world, and released his first book in September 2018, titled "My Own Way on the Streets of Life". His diverse work experience has created the foundation for what he loves to do today. As he writes: "Each time I rode my Harley or stood on top of a mountain, or walked along a path, I had just one thought. I cannot wait to share this moment with the world, and my passion allows me to do exactly that."
Let's Get Connected
Thank you
Christian Redermayer Photography
Be unique with your piece of art
Master Photographers International Image Challenge IIC 2:53 - 1st Place - Gold Medal - Fine Art - Harwood Building Vancouver