Monday, February 14, 2022
HAPPY VALENTINE'S DAY FROM WPC TEAM CANADA
by Blog Master
Submitted by Mona D'Amours in honour of World Photographic Cup WPC Co-Captains, Jillian Chateauneuf, BC; Gerald David, AB and WPC Team Canada, Top 10 Finalists in the World, Deborah MacEwen, SK; Louis-Philippe Provost, QC; Michelle Valberg, ON. I approached this outstanding group of leaders in photography to write a news story for Valentine's Day which is all about LOVE. We will do anything for love, and that is so true in photography. Take the time to enjoy the gallery of all images selected to represent WPC Team Canada 2022. Follow our camera lens which will be focused on Deborah, Louis-Philippe, and Michelle who have shared, not only their WPC images, but two of their own personal favourites. Their images are magical, but their stories are compelling. They really are about LOVE!
♥ Jillian Chateauneuf ♥ WPC Co-Captain shared this advice. Enter. If you don't enter, you will never know if you are the best in the world. It's as simple as that. As members of the Professional Photographers of Canada, we are encouraged to enter competition and experience all the hard work, heartache and jubilation that comes with it. I believe this is why the majority of WPC entries come from PPOC.
It takes more than talent to capture a world class image. It takes perseverance. If you read the stories of Team Canada, you will understand the effort that was put into their creation from selecting the location, returning time after time, waiting for the moment, and capturing images under adverse conditions. This takes the dedication of a professional photographer that has a true passion for their craft.
In Deborah's image, you learn that she has been on numerous whale tours, and taken hundreds, if not thousands of images before the perfect moment with amazing light and a stunning background which all comes together at the same time.
Louis-Philippe persevered in extreme heat to ensure he captured the architectural image he envisioned.
Michelle's image was taken while she was kneeling in water just waiting for the moment, again having photographed in the Great Bear Rainforest many times before.
---
♥ Deborah MacEwen ♥ Sometimes I think I was born with a camera in my hand as I've been doing photography just about my whole life. Being adopted at four years old, I had never seen pictures before. I remember as a young girl looking at my adopted mom's baby pictures realizing how precious memories were. I had often wished I had some baby and family pictures from the time I was born until I was adopted. I think that set the stage for my career in photography. At age ten, I also discovered National Geographic magazines, and dreamt of being a National Geographic photographer. However, I started out shooting weddings, portraits, engagements, babies, boudoir while teaching myself, and learning whatever I could. As life went on, I eventually opened a couple of studios, and joined PPOC to improve my craft. About six years ago with my husband's encouragement, I was able to concentrate on what had always been in my heart and soul so I started my career in Nature and Wildlife Fine Art Photography. I joined another association, and was mentored by Tula Edmunds who was instrumental in helping me grow my photography to where it is now.  Around the same time my husband surprised me with a trip to Africa which he knew had been a lifetime dream of mine. We went for five weeks, and I have never looked back!
Coalescent is the process of coming together to form as one, in this case, the waters, the lighting, the mountains, and the whale all came together at the same time. My image Coalescent was taken on the very last whale watching excursion of the season in Alaska 2019. I have been on numerous excursions in BC and USA, but never one more magnificent than this one. It was a beautiful, calm day with deep blue water and skies. It was very early morning, and once we got out into the strait, we were surrounded by whales, some so close you could reach out and touch them. As picturesque as the whole area was, there was only one direction with the mountains in the background. It took hours to come together with a whale showing his fluke in the right direction, but when it did, I captured him. At that moment, I felt this image would be special. It also became my very first Award of Excellence (Platinum) with the International Image Challenge Competition IIC in 2019.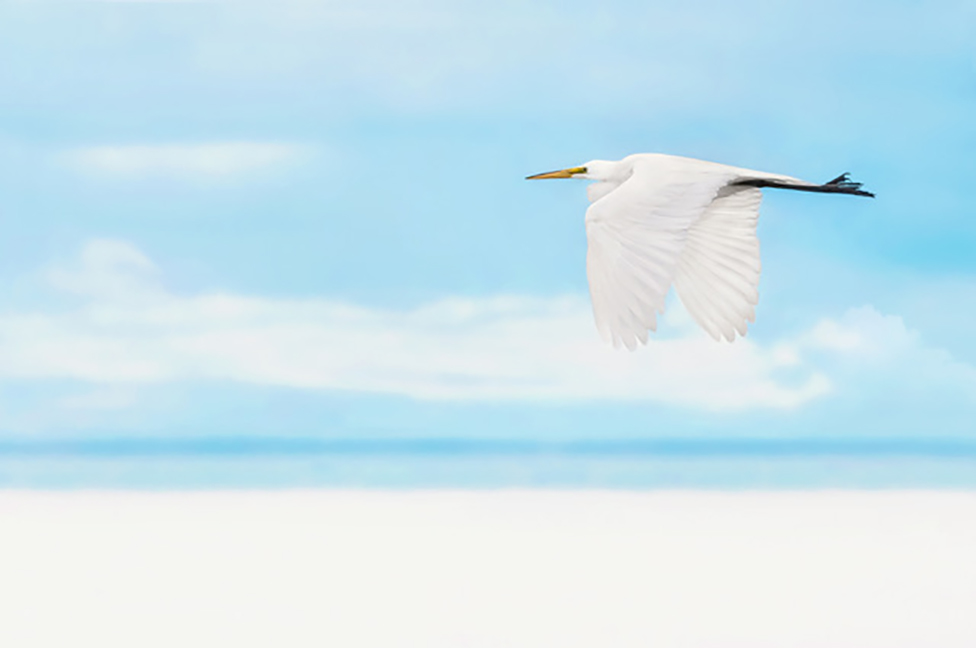 I am always looking forward to the next adventure. It doesn't matter if I'm travelling to an exotic location or exploring my big Canadian backyard. I always find inspiration and beauty everywhere. An example of this is Heaven Sense, a very simple image that was recognized with several awards. It was taken on one of my Sunday day trips close to my home in Saskatchewan. During Covid, we would pack a lunch in the car, and get out in the back roads. Again the light was so stunning, but I had to be very patient waiting for one of the Great White Egrets to fly in the right direction. With the International Image Challenge IIC, it won Platinum, the highest award possible, and also was first place in the Class Awards, and it was the 3rd highest scoring image in the whole competition. It taught me that sometimes less is more.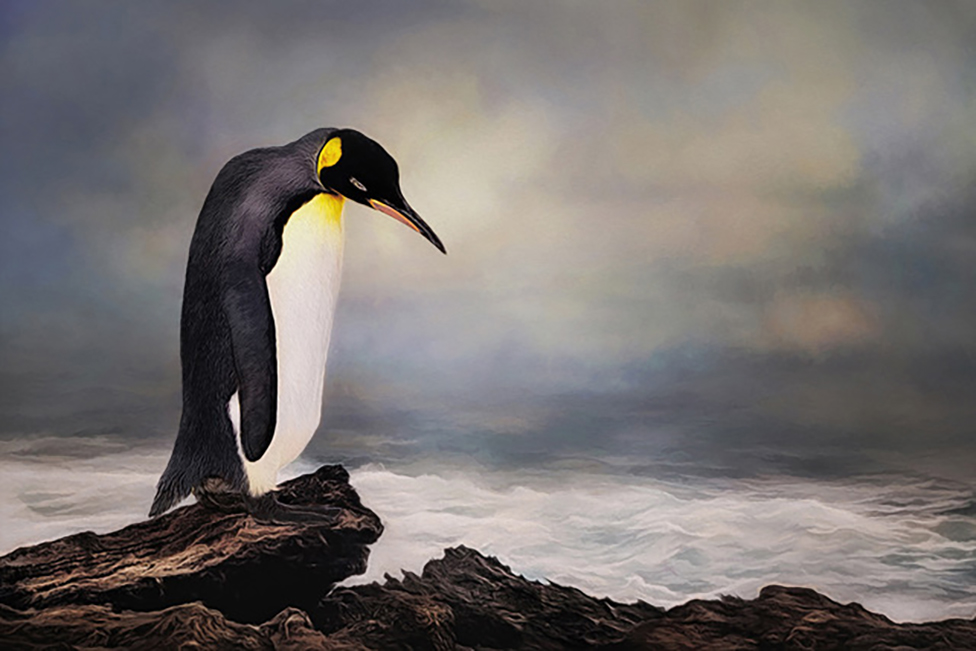 Often when I have some extra time, I love playing with digital painting with textures-backgrounds. One of my favourites I created was shortly after lockdown for Covid, and at the same time, my stepson was diagnosed with brain cancer. This little penguin I had photographed a couple of years prior had the look of how I was feeling that day, so uncertain about the future, not only for my stepson, but for the whole world. The title Shores of Uncertainty was poignant, and it holds a very special place in my heart. Last year with the IIC Awards, it received a Silver medal. 

If I have any advice to photographers, it is to Practice, Practice, Practice. Join Photography Associations, and do not be afraid to enter competitions, and never stop Believing! Photography gives me the opportunity to create and express what I see and experience. My hope is that my images evoke emotion, and inspire others to have a greater appreciation for nature and beauty of the world.
If you want to learn more about Deborah MacEwen's outstanding photography who has displayed excellence in a broad spectrum of subjects, visit her website https://www.deborahmacewen.com - https://www.facebook.com/DeborahMacEwenPhotography
---
♥ Louis-Philippe Provost ♥ It was July 2018. It seems so long ago, but I still have vivid memories. My girlfriend, Isabelle and I love to travel so we decided on a California adventure for our annual trip. Two weeks to discover the Golden State included Los Angeles, Sequoia National Park to visit General Sherman tree, Morrow Bay, Monterey, Santa Cruz, and San Francisco.
It was scorching hot the minute we landed at LAX, and the heat was relentless for the four days we were in LA. We rented a yellow convertible so we could travel in style to the Hollywood Hills. Everybody knew we were tourists, but we didn't care. It was all part of the experience. It was so hot that by 2 pm we either had to put the roof back down or get baked alive on Mulholland Drive.
The next day we visited the downtown core, Broad Creative Art Museum, Bradbury Building, Grand Central Market, Angels Flight Railway, and the ultimate, Walt Disney Concert Hall. My ulterior motive was to capture unique architecture with an immortal image. By the time we arrived at the promised land at 3 pm, it was the peak of the inferno. Travelling with a photographer can be very annoying, and I'm extremely grateful for Isabelle's patience. Fortunately, there was temporary respite in the air-conditioned gift shop after battling heat exhaustion outdoors. Inspired by Walt Disney Concert Hall architect, Frank Gehry, our arrival was well worth it. Even though I had a hard time looking through the viewfinder with all the sweat pouring down my face, I spent twenty minutes taking roughly fifty pictures. As a visually unique masterpiece with its adventurous curvatures, I could have easily spent the entire afternoon discovering all the varying perspectives with its magnificent angles.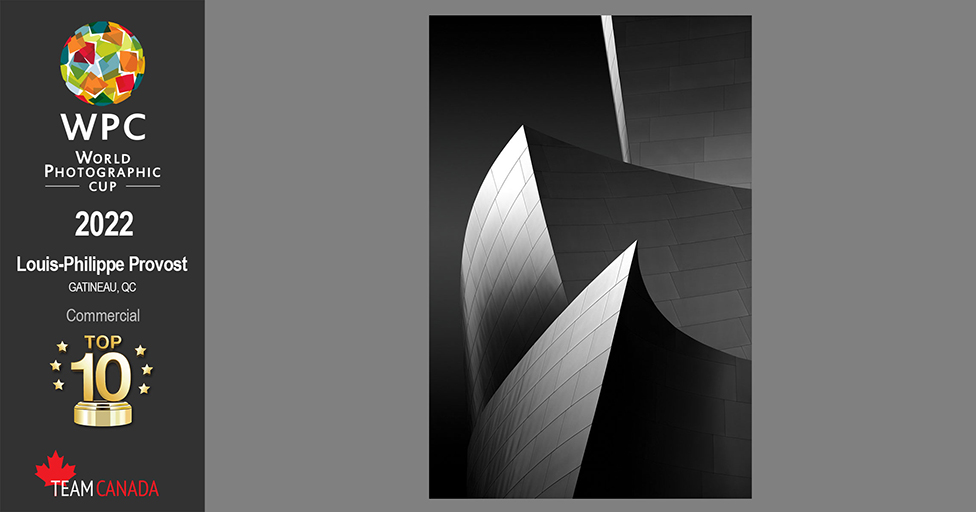 Waves of Steel seemed a fitting title for this pièce de résistance. Depending on the image, my post processing time ranges from five to twenty hours. This image was straightforward. I cleaned up the imperfections, adjusted the brightness and contrast on each panel, and darkened the sky. I am beyond pleased to have won many National and International awards for this image, and the cherry on top making the Top 10 at WPC this year.
For the second year in a row, I have had the chance to represent Canada alongside incredible photographers from all over the country. Last year was unbelievable with a second place finish with my image titled Strata Center which is probably my favourite and most awarded. This picture was taken in Boston at the MIT campus in 2015. I've spent hours and hours reworking every detail to perfection.
My final image is from my California adventure with a view of downtown San Francisco from the top of the Coit Tower. I kept my distance from the scene to include maximum detail in the image. Despite this effort, I ended up stitching two pictures together in post processing. If you look closely, you can see the American flag on one of the buildings.
If you want to see more of Louis-Philippe Provost's black and white architectural photography which can turn a building into an exquisite fine art piece, visit his website https://lpprovost.com/
---
♥ Michelle Valberg ♥ The Great Bear Rainforest is a global treasure that covers 6.4 million hectares on British Columbia's north and central coast – equivalent in size to Ireland.
I went to the Great Bear Rainforest in search of the elusive Spirit Bear.  The Kermode bear is a colour variant of the North American black bear. The Indigenous peoples of the north coast of British Columbia have shared its territory for thousands of years. Due to a double recessive gene, a small percentage of black bears in the area are all white. Because these bears mostly live on isolated islands, the gene continues to be replicated. The Indigenous legend says that "The Raven made one in every ten black bears white to remind the people of the time when glaciers covered this land".  
The Great Bear Rainforest is abundant with wildlife.  From the bears and birds to the whales and sea otters, my camera rarely stops clicking when I visit this magical place.  One morning, I was crouched low at the river's edge, my knees were on the rocks in the water.  I had 3 Nikon mirrorless camera bodies, one on a tripod with an 800mm lens, one with a 500mmPF and the other with a 70-200mm.  I was ready for all encounters – however, I didn't anticipate Boss standing 15 feet directly in front of me.
Boss lowered his head into the river and, without realizing it, I too instinctively ducked my head a fraction. From several metres away, I was watching the elusive Spirit Bear through my viewfinder, holding my breath and trying to remember to exhale. He pulled his head up and shook, droplets spiraling in a circular windmill around his head. He looked at me for an instant, and plunged his head back into the water, searching for salmon roe on the bottom of the river.  I felt a catch in my throat. The photographer in me knew intuitively that it would be a memorable photo. The human in me felt that, in that moment, I was part of Boss' life, as he was part of mine.  We were deeply connected in a way that is hard to describe.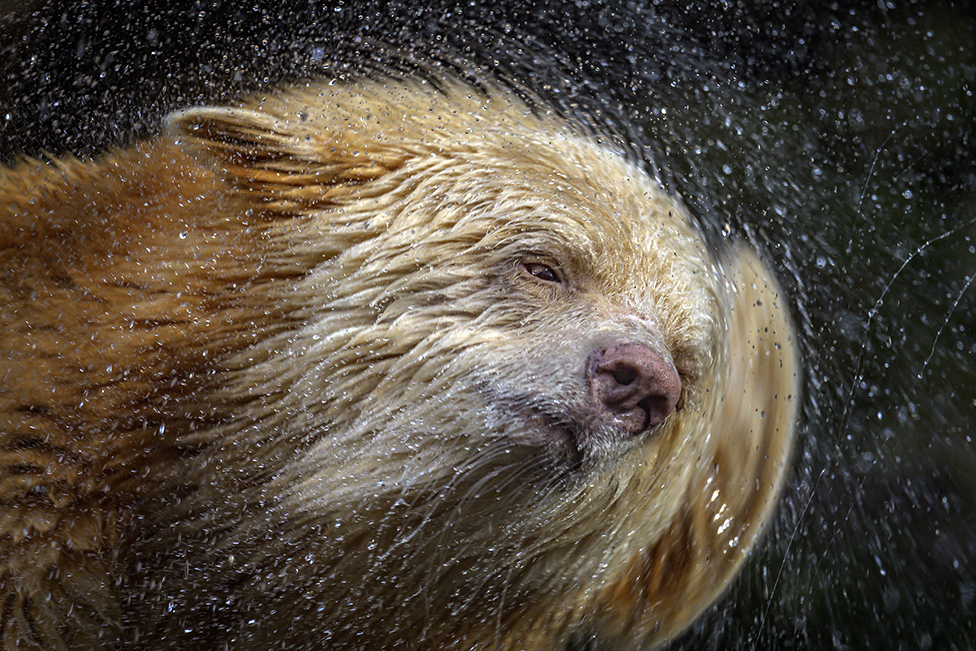 Isn't that what wildlife photography is really all about? I believe it's more than capturing a moment and holding on to it as evidence of our possession of nature. It's an opportunity to look into the eyes of a wild creature and see ourselves reflected, to understand that we are, after all, intrinsically entwined.  Of course, not every animal encounter is like a glitter bomb of perfection. Sometimes, a moment with wildlife can be joyful. They can be achingly sad. Or ridiculously funny.  An encounter may not even happen after hours of waiting and waiting and waiting.  But with patience and maybe a bit of luck, that defining image with find its way into your image library and reveal itself to the world. 
I continually dig deeper to find that moment and meaning to share with my viewers so they can create their own story within my image.  Perhaps it ignites their curiosity or desire to learn more, or if successful, it makes them feel more connected to the natural world.  Photography can blend art and science and ignite viewers to be more engaged.  As a wildlife photographer, I take this mission seriously and it is always a significant part of my process of creating.
 
Using photography for social awareness, wildlife conservation and inspiration will always be my continued mission.
Two years ago, Michelle Valberg's Spirit Bear (female "Warrior" seen below), Black Bear and Polar Bear were featured on Canadian Stamps. If you wish to be inspired by Michelle's outstanding work as a wildlife and adventure photographer, visit her websites. https://www.michellevalberg.com/ - https://www.valbergimaging.com/ - instagram