Tuesday, April 2, 2019
For a Good Cause, or Two
by admin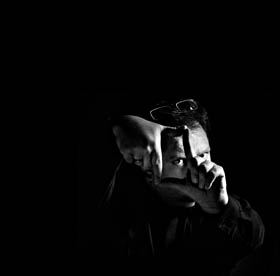 Bruce Allen Hendricks MPA, F.Ph, F/PPOC - BC, CPP

For a Good Cause, or Two

Back in the late summer of 2017, the regional Board of the Manitoba chapter of the Professional Photographers of Canada (PPOC) approached me with an idea. That year, at the annual Canadian Imaging Conference and Expo, a photographer by the name of David Anthony Williams was taking quick portraits of people attending the event and printing off finished prints for them. They asked me if I'd be willing to do the same during the awards banquet at our own Manitoba chapter conference 'Prairie Creatives'. They approached me for a couple of reasons. One, I was the defending Photographer of the Year (POY), and that they know I have extensive experience of creating studio portraits on location. I said "sure"…. but with a twist.

I was not going to do this for free. For a long time now I have held a belief that when doing things like this they should be tied into a charity fundraiser. If people are going to get something of substantial value, they should be at least willing to give a token amount towards a charity to receive it. That way it's a triple win. The people getting the portrait pay a small amount for a substantial value product. The charity wins by both getting donations and additional exposure for their cause, as well as PPOC gets to strengthen their reputation as being a reputable and respected Association by donating to a needy cause.
I didn't have to think very hard on which charity I wanted to work with. I chose the Manitoba Chapter of Crohn's and Colitis Canada. Crohn's Disease has been a huge part of my life, all my life. I was diagnosed with it when I was about 10 years old. I've had two major surgeries because of it, the last one on an emergency basis when my bowl ruptured and I nearly died in 2011. It has affected my life tremendously. My Mom also had it since before I was born. Though she never had any surgeries, like me it affected her daily life. My brother was diagnosed with it as an adult. Twins who are both friends of mine also have had it since being young teenagers. A friend of my brother has it, along with his wife. Heck, even a dog they had at one point was diagnosed with it! Manitoba seems to be the unofficial Crohn's Disease capital of the world. It's not acceptable to talk about like most other diseases, so basically most people who suffer from it keep it to themselves and don't talk about it much. Add to the fact that every patient seems to be affected by the disease a little differently, it's just traditionally been deemed socially unacceptable to talk about it. Thankfully, that attitude has been slowly changing the last 10 years or so. I had formed a working relationship with the regional director of the charity the last couple of years and I had been already donating some of my time and talents to help them raise funds. I immediately knew I was going to select them as my charity of choice.
The Lab Works, a high-end custom photographic lab and great commercial trade partner of PPOC graciously stepped up and donated all the printing, so that everyone who donated would receive a physical 11x14 portrait. As photographers, I believe we all most value printed images. In addition to their donation, they would receive a file that they could use for social media. This was an absolute steal of a deal for only a $20 minimum donation! In addition, people were offered the ability to purchase the high-resolution file of the image for a larger donation (that donation amount increased if they waited to see the portrait before committing to purchase the file). In general, I refuse to sell digital files from a portrait (other than business portraits that is). However, because this was a charity fundraiser, I broke my own rule and allowed people to buy them.
I gotta say while I only had a little more than an hour to photograph everyone who wanted their portrait created, with the help of Marlene Fast HLM, MPA, SPA, F.Ph. handling the donations, I raised $500.00 for Crohns and Colitis that first year. It was a resounding success! The images were revealed and picked up at the annual Christmas Party of the Association several weeks later. Yes, when I add up all the time spent arranging, setting up, photographing, tearing down, working on the files as well as picking them up from the lab… it was easily a 20+ hour time investment. However, it was all for a good cause.
With the quality of images created and the money I raised, I had thought I had set a pretty good precedent. From then on the previous year's Manitoba Photographer of the Year winner would be handling this new Manitoba 'tradition'. Seeing how I was a finalist in 2017 when I was trying to defend my 2016 title, I expected to not be asked to do this again for the 2018 Prairie Creatives Awards Banquet. Low and behold, the 2018 winner was unable to attend the banquet and again the Board asked me if I would be willing to do it again as it was such a success the previous year. Of course, I said yes.
Now, while once again the amazing Lab Works stepped up and offered to print all the 11x14 images at no charge (again, a huge thank you for doing this) I decided I would change a few things up from the previous year. First of all, this time I chose 'Darcy's A.R.C.', a no-kill animal shelter in Winnipeg, to be the recipient of all monies raised. Anyone that knows me knows of my love of animals - period. However, I also dropped the automatic low-resolution social media file being given with the initial donation. An 11x14 portrait for such a $20 donation is an incredible offer to begin with. A portrait that size should be costing people hundreds. I still allowed people to purchase the high-resolution digital file. Again, there was a lower price for it if they committed to buying the file before even seeing the portrait. Again the amount of time spent on this project was about the same (20+ hours) but the money raised was more than 150% of the previous year's total. This time $755.00 was raised! (Not including the cost of postage for those out of town people requiring theirs to be mailed). Darcy's A.R.C. was very appreciative of the money and it went to help fur babies get healthy and find their forever home.
What will happen in 2019 - I have no idea. The current POY title holder (I was part of the judging last year so I couldn't enter) doesn't photograph people. I doubt they would want this to be their initiation into the field. We'll see what the Board decides to do.
In the meantime, if you would like to help support either (or both!) the wonderful charities that I selected for the Charity Portrait Fundraiser the past two years, please visit the following links to make a donation. It would be greatly appreciated.

http://www.crohnsandcolitis.ca

Cheers,
Bruce Allen Hendricks MPA, F.Ph, F/PPOC - BC, CPP