Thursday, September 5, 2019
PIG PLUS PRO PHOTOGRAPHER EQUALS CCMA AWARD NOMINATION
by Blog Master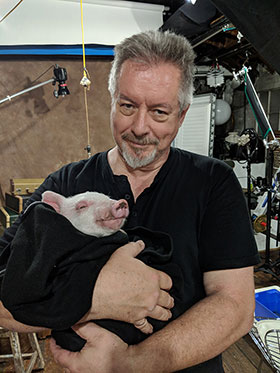 This is a Photographer's Tale, or maybe that should be "Tail", of a Rescued Piglet, a Checkers Game, a Pro Photographer, and a Country Western Singer. See how this all turned into a nomination by the Canadian Country Music Association (CCMA) for the Cover Art of an Album. Story as related by Brad Kelly.
I've always told people, when photography isn't any fun anymore, I would quit. But one thing that keeps it interesting, is not knowing what's coming next. There's a first time for everything. Sure I've photographed a lot of different subjects, and worked with a variety of animals. However it was strange to receive a telephone call about photographing a rescued piglet.
Scotty Kipfer is a talented and experienced Canadian musician who in the past has worked as a session player for other talented artists. He has toured all over Canada, and spends a lot of time in Nashville with his profession. He has just completed his first big solo project to which this story relates. I've known Scotty for about 15 years and have photographed him numerous times in studio, on location and in concert. We always have a good time but this was one of the strangest experiences yet.
Scotty has one of the biggest hearts of anybody I know. He was driving back from a tour just before his album was coming out, and he saw something strange at the side of the road. It was a small pink piglet. Scotty couldn't just leave it there. He's a country boy through and through. He picked up the little guy, and cleaned up his road rash, since he'd obviously fallen off a truck. He then continued on his way with a new companion. Personally I've rescued a few felines, but this was something different. This little piglet got Scotty's imagination working overtime. 
Even with the cover art already done for his new album, it was "Hold The Presses" time. On super short notice, he called me up, to see how we could incorporate the piglet onto his Album Cover. It was Scotty's idea to be losing a game of checkers to our four-legged friend.  All the time we spent assembling our set and adding lighting, "Peter Porker" ( yes, that's the piglets new name ) remained calm and sleeping on Scotty's jacket. He would make cute little noises all the while. Since I work with so many animals in the studio I was prepared for any potential disasters that could have happened, but Peter was well behaved and slept through most of it.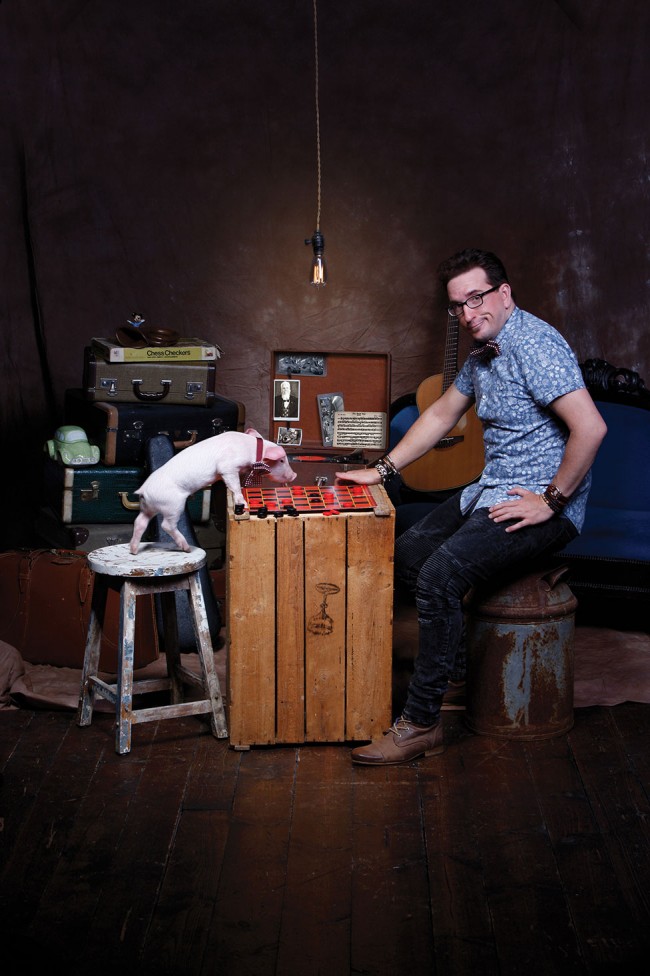 Most of the props in the shot are from my stash here at the studio. Wooden crates, stools, luggage, old record player, you name it. Scotty added a few personal items that were sort of "easter eggs" for the music in the album. For example, some vintage photos, the Beetle and the bow ties. Yes, Scotty can be a pretty dapper dresser and it was only fitting they should wear matching bow ties. To try to retain a bit of a back room feel to the image we stacked up our props, set up the checker board and sofa, added the guitar and hoped this little piggy just wanted to nap. This was shot at the very edge of my cove, which was painted white at the time. I draped an earthy toned muslin to hide it, and still let some of the studios actual wooden floor show in the foreground.  It's a great floor and finds it's way into a lot of my work.
   I wanted to keep the lighting simple and fairly centered to the checkerboard.  There's a 3' square softbox with an egg crate as a main light source. It's positioned high and centred over the camera. There was another light set almost directly over the checkerboard and aimed straight down. Trying to maintain the look of simple room light. The hanging bulb was on a rheostat so it could be adjusted just enough to show up.
  As I always do when creating composites, I shot one clean background plate of the scene. This time that image was used elsewhere in the CD's jacket. Scotty was photographed in several different poses. I'm used to shooting large format, so I still only take a minimal number of images. We had a pretty good idea what we were looking for so there were less than 20 images. After Scotty's turn it was Peter Porker's chance to shine. We woke him up, and let him walk around a bit for a good stretch. Scotty placed him on the stool and set his front hooves on the board. Scotty stayed right there with Peter in case he jumped, but as a true professional, Peter Porker just shifted the stance of his back legs and I took the shot.  Simple as that. Peter had his moment in the spotlight.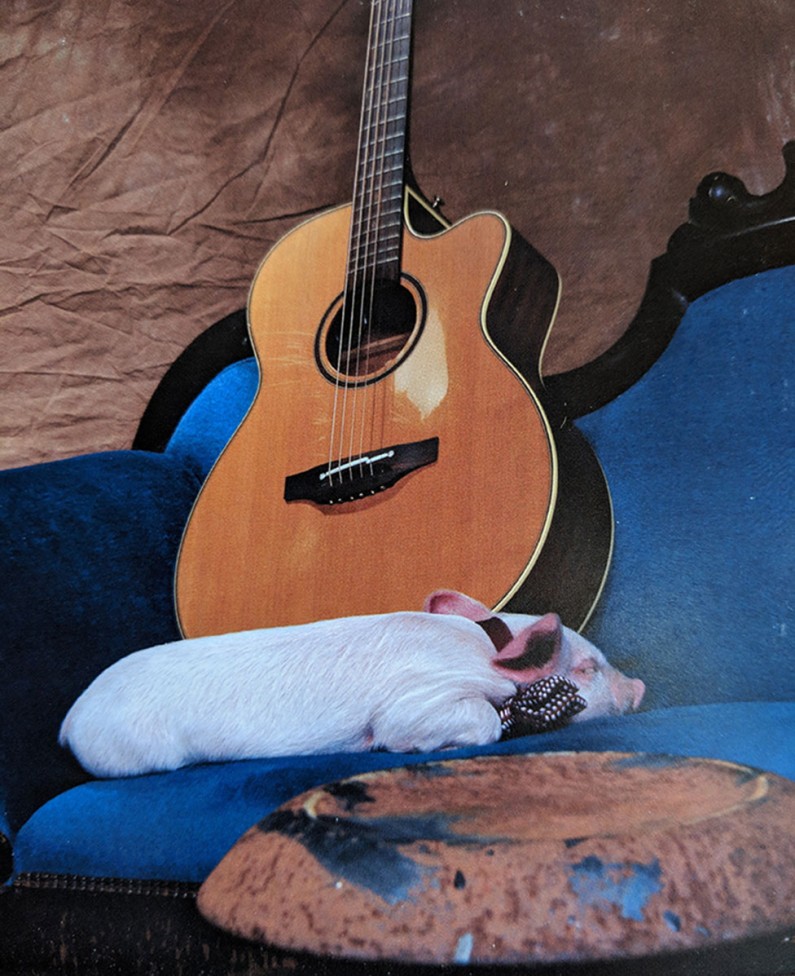 There was one more image taken of Peter on the sofa with the guitar. Sleeping of course. The entire set up and exposures took a couple hours, and Peter was awake for about 5 minutes. The two chosen imaged were laid on top of each other in Photoshop and the spot with Peter was simply erased. No fancy masking. I shoot from a heavy camera stand so nothing moves.
The album came out about two weeks later with the new Cover Art, and is called "Taking My Time". There were a couple levels of judging by the CCMA people for it to be given a nomination. The category the Cover Art is nominated for is called "Creative Director of the Year". Like the "Oscars", the awards are presented at a pre-ceremony during the day, before the Main Event. Scotty will be going, and I have a seat reserved if I can find the time in my schedule to attend.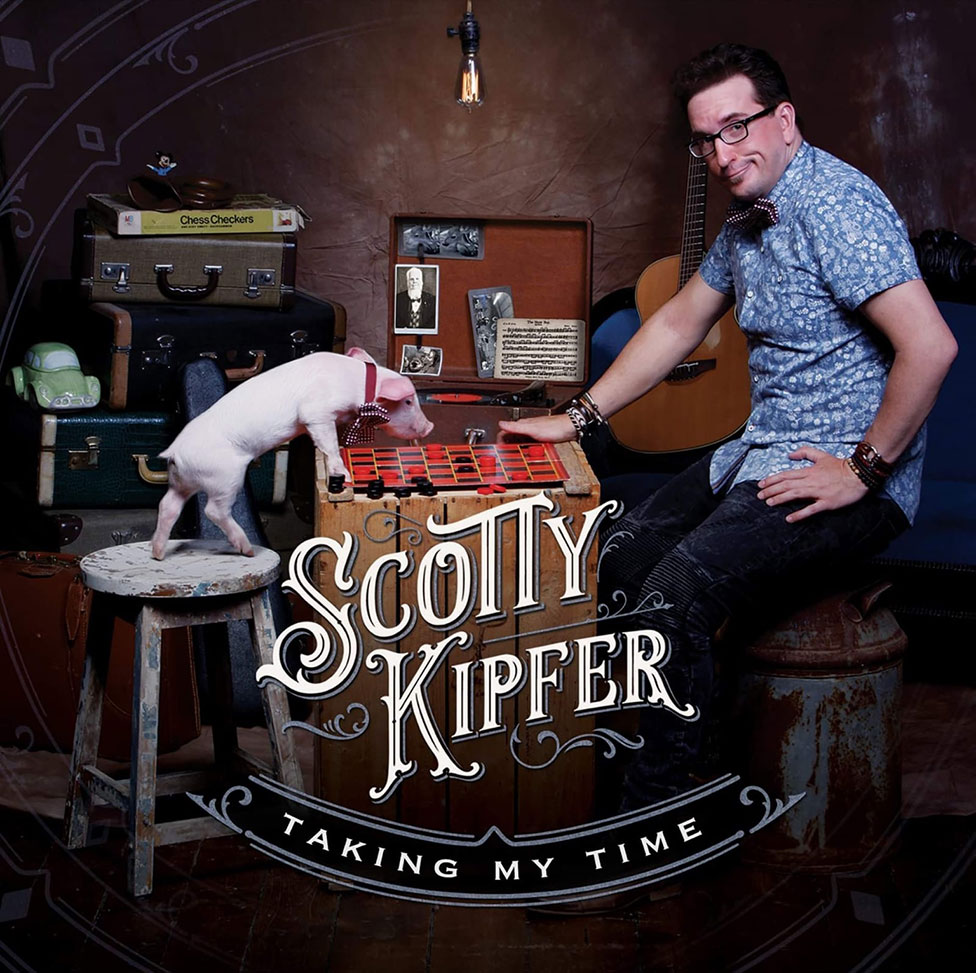 Receiving that "nomination" email was a pleasant surprise. So, now we wait and see. As for Peter Porker, he has a nice home in the country at a no kill animal rescue. From the little 10 pounds I held in my hands that night in the studio he has grown to 500 lbs. And no doubt he spends some good times napping, still. Peter Porker had a rough start to that one particular day, but it turned into the Best Day Of His Life – and Mine. Now I wait for the next interesting subject to show up.
Brad Kelly is an Accredited Photographer with the Professional Photographers of Canada. He has earned the designation of Master of Photographic Arts (MPA). He has been a Commercial and Portrait photographer for over 30 years. His company is called Tequila Moon Productions and the studio is located in Cambridge, Ontario.