Friday, January 3, 2020
COLD WEATHER PHOTOGRAPHY TIPS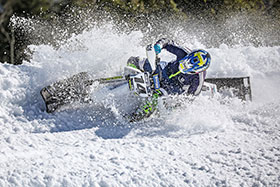 Story/Images by Jacquie Matechuk. Another early morning and I wake to the relentless nagging of an over-zealous iPhone basking in the soothing hum of a radiant heater in my hotel room. It's Day 1 of the Winter XGames and the temperature is expected to flirt with freezing. Nothing exceptional until the evening hits and we fall to -20 Celsius. So, it's time to plan accordingly.
Thursday, October 31, 2019
FOR THE LOVE OF MONSTERS

"Images and Story by Jeff McDonald". Halloween has always been a favourite time of year for me. I get it honestly though…my mom always went above and beyond when decorating for Halloween and our house was usually the spookiest on the block. Fast forward 30'ish years and my wife, daughter and I are carrying on the tradition, but via special effects makeup, body painting and photography.